President Obama shares some online attacks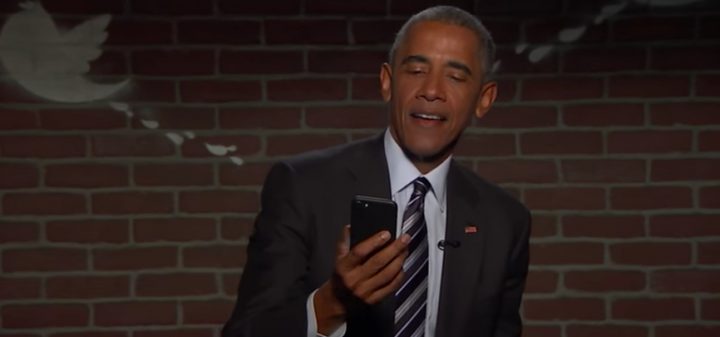 When you are President of the United States, there is a fair amount of criticism that you are going to get. That number has multiplied many times over with the introduction of social media over the years. While some Presidents didn't use or understand social media when it first started President Obama has always embraced the technology.
Ad. Article continues below.
Always one to prove that he has a sense of humour about himself President Obama appeared on the popular late night American talk show Jimmy Kimmel LIVE to read some of the "mean tweets" that people had posted about him on social media.
While the video is a bit of fun, Twitter has been an issue that has been a main talking point of the US election as Republican nominee Donald Trump is a very active user. Mr Trump has tweeted insults and allegations sometimes in the middle of the night. His opponent, Democratic Nominee Hillary Clinton, and her supports have comes out saying that a President can't be insulting or arguing with people over social media in the middle of the night.
President Obama even stated "I don't tweet at 3 am about people who insult me" during an interview on the show. When asked about how it will look after his decision to stay in Washington after leaving the White House so that his daughter can finish high school there, President Obama said, "I'm like the old guy at the bar where you went to high school, right? Still kinda hanging around.. .like his shirt's buttoned a little too low, still thinks he's cool."
Many will agree that he's still cool.