Popular Australian food brands linked to rainforest destruction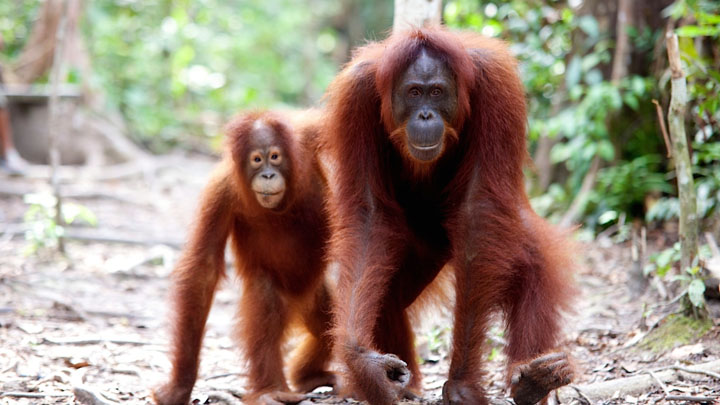 No doubt you've heard a lot about palm oil and the destruction of orangutan habitat in Indonesia.
Well, now it's been linked to several popular Australian food brands – including some who don't even have palm oil in their products.
The link between the brands and the destruction of rainforest in Indonesia has been highlighted by the ABC, and it all comes down to the company who has a stake in those brands.
Wilmar International owns CSR Sugar, as well as a 50% share of Goodman Fielder – a company whose brands include Meadow Lea margarine, Wonder White and Helga's Bread, and Praise Mayonnaise.
While the company hasn't technically done anything directly, the link comes from footage obtained by ABC's 7.30 program – showing palm oil workers clearing rainforest in Indonesia.
Ad. Article continues below.
The palm oil workers in the footage were from a mill that supplies Wilmar International with palm oil.
Environmentalists have been critical of the company, as the rainforest in question is home to a range of animals including orangutans, Sumatran tigers and rhinos, and elephants.
.@ABCAustralia airs our recent footage of #ConflictPalmOil active clearance in the #LeuserEcosystem linked to Wilmar, supplier of @PepsiCo pic.twitter.com/Hwl8U557tX

— RAN (@RAN) December 8, 2016
The campaign director for the Rainforest Action Network, who filmed the clearing of the rainforest, has called on Wilmar to investigate the footage.
Ad. Article continues below.
"Wilmar is connected to the destruction of Tripa's peatland, and it is connected to the destruction of the Leuser Ecosystem," Gemma Tillack told the ABC.
"Wilmar needs to go beyond the mill, they need to get down to the frontline of forest destruction and stop the bulldozers in their tracks."
What does the company have to say?
Wilmar has responded to the criticism, stating it ceased buying from the palm oil plantation in October.
Assistant general manager of group sustainability Perpetua George agreed that something needs to be done to fight deforestation.
Ad. Article continues below.
"The moratorium initiative by the Aceh Government has provided an opportunity for private sector players like Wilmar, as well as RAN … to potentially work together to overcome the trade-off dilemma and achieve this agenda," she told the ABC.
The environmentalists have given the company some credit for committing to stopping deforestation two years ago, although they say the latest footage has "undermined" the company's efforts.
You might be wondering how people are reacting to this news?
Well, Senator Nick Xenophon has led the reaction amongst Australian politicians, as he pushes for palm oil labelling on supermarket shelves.
He told the ABC Wilmar needed to do more to identify deforestation committed by its suppliers.
Ad. Article continues below.
"They need to be up front with Australian consumers, all of us, who would've consumed one of their products that Wilmar now controls or owns," he said.
"At the moment, palm oil is just labelled as a vegetable oil and it's just given a number. It's meaningless in terms of consumers being informed.
"I'd like to think that next year in 2017, particularly with these latest revelations, will be the year when we will finally see some truth in labelling when it comes to palm oil."
Meanwhile there have been some calls on social media for people to boycott the company's products.
Now boycotting:
CSR Sugar
Meadow Lea
Wonder White
Helga's Bread
Praise Mayonnaise#Wilmarhttps://t.co/rgQznIyX47

— Dan Gocher (@justdanfornow) December 8, 2016
Ad. Article continues below.
What do you think about this? Should their be tougher labelling laws for palm oil products?