Pope Francis: This is your mess, now clean it up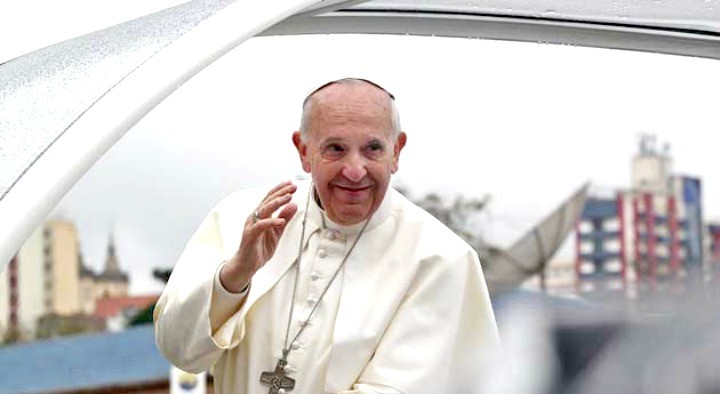 With the release of his long-awaited encyclical, Pope Francis has chastised wealthy nations and accused humans of reducing the earth to "an immense pile of filth".
In the 192-page letter, which is the highest level teaching document a pope can issue, the Pontiff lays much of the blame for climate change on human activities.
He says, "The violence present in our hearts, wounded by sin, is also reflected in the symptoms of sickness evident in the soil, in the water, in the air and in all forms of life".
Pope Francis blames human greed and consumerism but also business and politicians for the situation 'Our Sister, mother Earth' now finds herself in.
Pope Francis writes that: "We have come to see ourselves as her lords and masters, entitled to plunder her at will.
Ad. Article continues below.
"If present trends continue, this century may well witness extraordinary climate change and an unprecedented destruction of ecosystems, with serious consequences for all of us," the Pope writes.
The Encyclical maintains that 'most global warming in recent decades is due to the great concentration of greenhouse gases released mainly as a result of human activity' and that it represents a great inequality, with poor countries suffering the most.
The Pope predicts war and water crises will become a reality in this century and that the world's poorest will be the worst affected.
Pope Francis goes on to accuse sceptics of manipulating science, and politicians of showing "remarkable" weakness.
He orders wealthy countries like Australia to take decisive and swift action to solve the problem, arguing that the place to start is by a rapid move away from fossil fuels.
Ad. Article continues below.
Environmental groups and activists are hoping the pontiff's intervention will be a game-changer in the climate change debate, however US Presidential candidate Jeb Bush is said to have dismissed a leaked version of the encyclical.
The question is, as the leader of the world's 1.2 billion Catholics around the world, does Pope Francis have enough weight behind him to influence action on the world stage?
Tell us, do you think the Pope's message will have an impact on the climate change debate?