Why politicians always start good and end up crap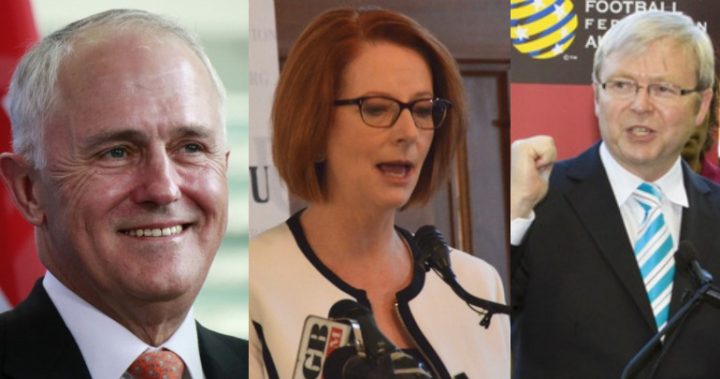 Politicians. Their reputation can be as dirty as a used diaper; rarely will you hear about a politician who keeps all his campaigning promises to the people. It is a wonder why anyone would believe anything these guys say during the elections because let's face it – history has shown that promises get broken as soon as they get into power.
In all fairness, politicians do have it hard. Enact a bad policy and they're a terrible person. Change their mind and reverse it, they're weak. Promise that they won't make cuts and closures and then actually do it, they're called liars. But what else can the people hang on to if not their word?
Politicians get elected because people believe that they will get what they need and want through them. It's a word game.
So when a politician breaks his promise, all hell breaks lose.
Remember that time when Tony Abbott and Kevin Rudd were at the final leaders debate? On August 28, 2013, Mr Abbott made an unexpected health care commitment: "We are not shutting any Medicare locals," the then opposition leader said.
Ad. Article continues below.
This promise was broken when the Government announced in the 2014-15 budget that the Australian Medicare Local Alliance would no longer be funded and that new "primary health networks" would replace Medicare locals from July 1, 2015.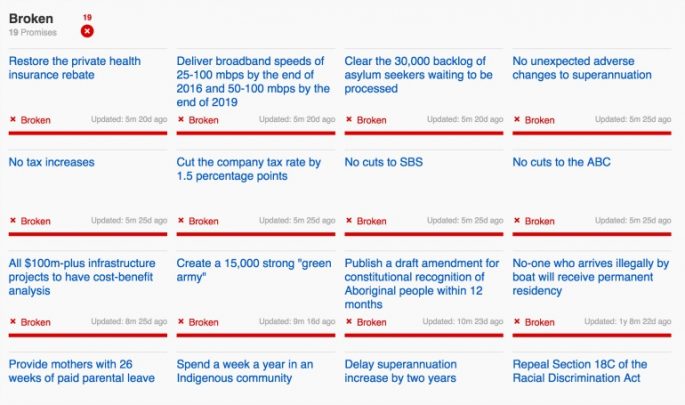 But Mr Turnbull isn't the only one who's been caught not keeping his word.
Ad. Article continues below.
Let's not forget the National Apology to the Stolen Generations delivered by Kevin Rudd in 2008.
"We today take this first step by acknowledging the past and laying claim to a future that embraces all Australians. A future where this Parliament resolves that the injustices of the past must never, never happen again," said Mr Rudd.
The key promise undertaken by the Rudd government was to "close the gap" – an important aspiration, one that is critical if Aboriginal and Torres Strait Islander people are to enjoy the same opportunities as all other Australians. Later, the Productivity Commission released its annual report on the progress on "closing the gap" and by its own account, progress had been mixed.
How about promises made in Julia Gillard's first speech as Prime Minister? "I'll bring the Budget to surplus in 2013 … The Budget is coming back to surplus in 2013," Gillard said. And what happened after that? Let's say that the government no longer promises a surplus.

But politicians break their promises so often that the ABC started a Promise Tracker.
The syndrome of confused politicians isn't just confined to our great country. America has their own versions too – Sarah Palin, Ted Cruz and wait, let's not forget – Donald Trump.
But for the record, not all politicians are idiots; although you might disagree. But plenty are and the sad truth is that we actually need them to put our agenda forward. And everything starts with a promise. When a promise is broken, that is when a politician can go from good to, well, crap.
So how do we pick the good from the bad?