Aussie pollie soapie continues as man denies fathering 'Joyce baby'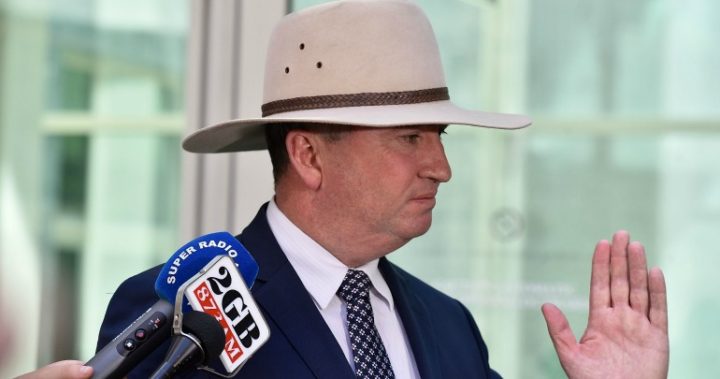 The soap opera that is Aussie politics is getting into the realm of the ridiculous.
At the weekend, almost two weeks since he went to the backbench, having stepped down as leader of the Nationals amid the furore over his extramarital affair, Barnaby Joyce decided to feed the media beast again, revealing that there was a 'grey area' over the paternity of the child he's expecting with his mistress Vikki Campion. 
And now Campion's former fiance has joined the fray, denying that the baby boy due in April is his, the Daily Telegraph reports. Digital consultant John Bergin was engaged to be married to Campion, however the couple split in 2016. 
"I haven't seen Vikki since late 2016, any suggestion that I am the father of Vikki's child is incorrect," Bergin told the newspaper.
While Joyce has repeatedly insisted that the issue of  his marriage breakdown was nobody's business, the former deputy PM has continued to speak out about his private life – and his comments at the weekend on the fact that he was out of the country at around the time conception would've taken place raised eyebrows. It effectively reignited talk about his affair – talk that should've died down on his decision to quit the Nationals leadership, which he said at the time was designed to be a "circuit-breaker" that would afford him and his family much-needed privacy.
Ad. Article continues below.
Some have now accused the pollie of throwing Campion 'under the bus' by implying at the weekend that she may have had other partners while conducting an on-off affair with Joyce.
Read more: 'Hurt' Barnaby Joyce calls marriage breakdown his 'greatest failure'
Joyce's relationship with his former media adviser hit the headlines in February when the Daily Telegraph published a picture of a pregnant Campion and claimed the pair were now living together and expecting a baby. Reports have hinted heavily that Joyce and Campion's relationship started as far back as April 2017, while he was still married to wife Natalie.
Mrs Joyce herself released a statement saying that she understood the pair had been a couple for "many months", including while Campion was the Nationals leader's employee.
When news of a pregnancy with a former staffer broke out, Joyce demanded privacy, but appeared on the ABC's 7.30 program that same evening, again saying that the issue was a private matter.
Ad. Article continues below.
He subsequently gave an interview with Fairfax in which he said only his wife had a reason to be angry with him, and that moral matters were between only him and God.
He also insisted at the weekend  that 'no one' had asked him if he was the baby's father – despite the fact that the Daily  Telegraph has shown multiple media outlets emails it sent to Joyce putting that question to him prior to printing its original report. Joyce refused to respond to the question at the time.
The fact that he assisted Campion to win two jobs with other Nationals MPs raised questions over whether he had broken the ministerial code of conduct, causing many voters and commentators to argue that his behaviour in this context was in the public interest.
Others noted that Joyce's very public opposition to same-sex marriage legislation, and his use of his nuclear family in campaigning against the legislation, made his moral fibre a matter for voters, who had taken him at his word when he portrayed himself as a Christian family man.
Joyce resigned from his role as the leader of the National Party and as the country's deputy prime minister two weeks ago after a West Australian woman accused him of sexual misconduct. At the time, Joyce called the accusations–printed in an ABC report– "spurious and defamatory", vehemently denying that such events took place. 
Ad. Article continues below.
Do you think this saga has gone on for too long? Do you think Barnaby Joyce will ever return as Nationals Leader? Would you support him?
With Facebook removing news sites from your feeds we ask that you sign up for Starts at 60's emailers here. And to keep us on your wall, join some of our new Facebook groups and clubs:
News Junkies Club – Australia
News Junkies Club – USA 
See news on the change and links to all our other clubs and groups here.