Under-fire PM Malcolm Turnbull promises to 'deliver' in 2018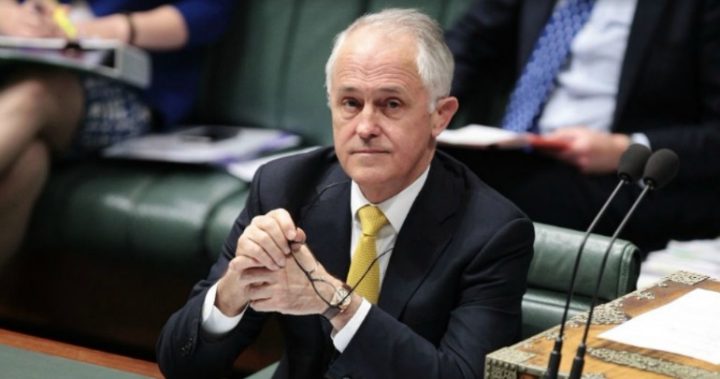 There's no denying that 2017 hasn't been the best year for Malcolm Turnbull.
While there's been some highlights for the prime minister, opinion polls also suggest that support for Turnbull has fallen dramatically over the past year.
Speaking on Melbourne's 3AW radio show, the 63-year-old gave his thoughts on Saturday's by-election in Bennelong and how it would impact him.
"In any by-election there is a contest between two candidates and there is also a contest between the two parties they represent," Yahoo reports the PM saying on the show. "People will be casting a judgement on the government which I lead, of course."
Turnbull continued: "Confidence in my leadership is a matter for the Liberal party room, and of course, on the floor of the house. This is why so much is at stake."
Ad. Article continues below.
Read more: Malcolm Turnbull fumbles for words in heated indigenous MPs debate
It's an important election for the Liberal party, given that there is a chance the government could lose its absolute majority if its candidate, John Alexander, doesn't win the seat.
With the next election slated for 2019, there's still some time, though, before the public will have its say on who should be running the country, something that Turnbull said he was still committed to doing.
Read more: Former PM John Howard weighs in on Malcolm Turnbull controversy
"In the meantime, my job is to deliver economic growth, and we have delivered the longest run of monthly job growth since 1994," he said of the election.
Ad. Article continues below.
The PM also denied that he was up himself – the radio hosts implied that he came across as arrogant – and suggested that he was simply doing his job: "I'm focused on my job, which is looking after other people, and delivering economic growth and jobs."
He also hinted that his word of the year for 2018 will be different from "innovation", which was his theme for 2017. 
"The word for next year is 'delivery'," he revealed.
"And it is putting more money into the pockets of hardworking Australian families and businesses," he added.
Time will tell if he delivers on his promises for 2018. 
What do you think of Turnbull's comments? Does he have your support in the next federal election?