Turnbull admits consulting wife over Joyce scandal in open marriage chat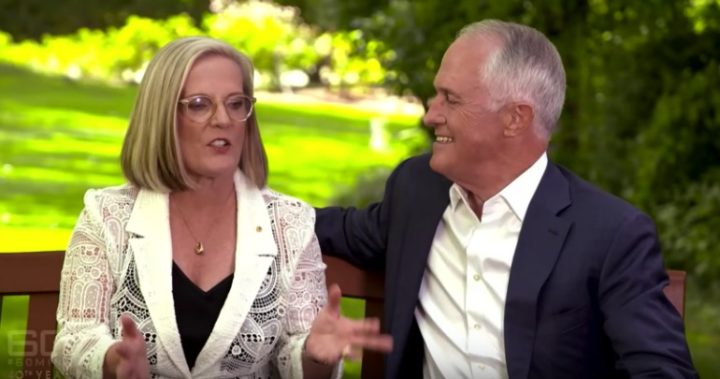 Malcolm Turnbull may hold the top spot in Australian politics, but he has his wife Lucy firmly by his side through all his big decisions. Now, he has revealed she was the first person he sought counsel from during the recent Barnaby Joyce scandal.
Opening up in an emotional joint interview on Channel Nine's 60 Minutes, the Prime Minister revealed the secrets behind his 38-year marriage, just days after blasting Joyce for his public affair with his pregnant staff member Vikki Campion.
"We are a team. I've always had a greater sense of Lucy and me than I do me," Turnbull told Liz Hayes in the open chat. "We are just a very tight team."
He proved his point by revealing it was Lucy he turned to when news broke of Nationals leader Joyce's affair. Turnbull made headlines last week after attacking Joyce in a damning speech, saying he had made "a shocking error of judgement". Joyce later hit back at the PM, saying his comments were out of line.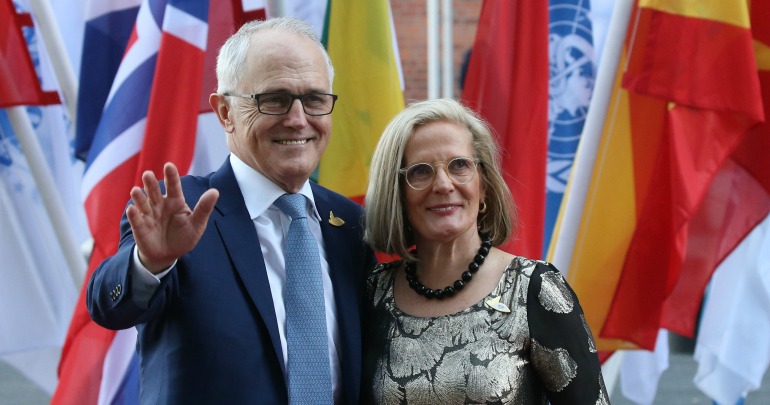 However, despite rumours they're no longer on speaking terms – they won't be heading for a divorce any time soon. Turnbull told Hayes their relationship is now "frank"
Read more: Barnaby Joyce issues grovelling apology to family AND girlfriend
"Australians wanted to hear their prime minister's heartfelt views about these events, they wanted to know what I felt about them," he said, while defending his comments last week. "They wanted to hear it from my lips but also from my heart.
Ad. Article continues below.
"Saying you're speaking for 25million people is a bit presumptuous, but I certainly felt that the values I expressed and the action I took, would have the overwhelming endorsement of Australians. I felt it was absolutely the right thing to do."
Following the scandal, Turnbull has now banned sex between ministers and staff members, and defending the controversial ban, he added: "I don't care if they're married or single, they could be the most eligible bachelor or young woman in the country and be absolutely free, but if they're a minister in my government they cannot have sexual relations with their staff."
Meanwhile, he took the opportunity to share some relationship advice with viewers, and told them to "keep loving each other". He met his wife Lucy while he was a journalist, and describing her first impressions of her husband, she told Hayes: "He was so dashing and handsome and funny. He was irresistible."
Read more: An open letter to Barnaby Joyce from a 60-plus voter
Ad. Article continues below.
After proposing to his wife, Turnbull began making wedding plans, but the pair hit a block in the road when the vicar at the church they wished to marry at expressed doubts over their differing religions. Turnbull recalled wanting to marry in the Church of England, and ended up telling the vicar it was his "solemn duty to prevent fornication in your parish. We are young and happy and sorely tempted."
As the presenter asked if they had an "unbreakable" bond, he added they were: "Together forever."
Did you watch Turnbull's chat? What do you think of his comments on the Joyce scandal, and his happy marriage?