It's another Trump! The president's 9th grandchild greets the world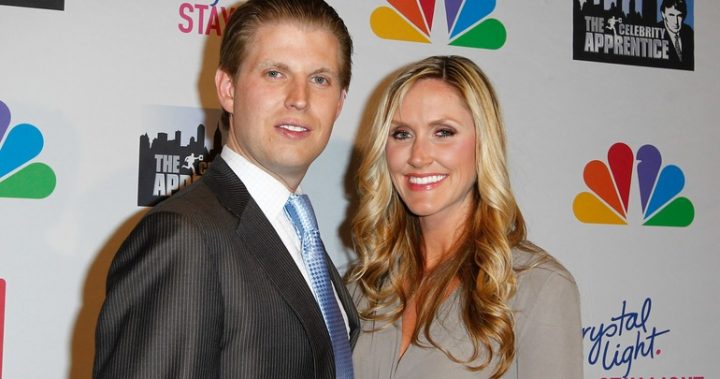 US President Donald Trump has plenty of issues on his mind – the recovery of Texas and Florida after natural disasters, the looming danger of North Korea – so no double some happy family news was what was needed.
And son Eric Trump obliged, with the birth of a son, the president's ninth grandchild.
Sticking to family tradition, the little boy was called Eric Jr (Donald Trump named his eldest son Donald Trump Jr), although he'll be known as Luke. The new father tweeted a snap of his newborn just hours after his wife Lara gave birth. The picture showed Luke sleeping peacefully, wrapped in a blanked in the colours of the Stars and Stripes.
.@LaraLeaTrump and I are excited to announce the birth of our son, Eric "Luke" Trump at 8:50 this morning. pic.twitter.com/b8zRSktcd8

— Eric Trump (@EricTrump) September 12, 2017
Ad. Article continues below.
The Trump family were quick to welcome the newborn, with his grandfather issuing his congratulations.
Congratulations to Eric & Lara on the birth of their son, Eric "Luke" Trump this morning! https://t.co/Aw0AV82XdE

— Donald J. Trump (@realDonaldTrump) September 12, 2017
Aunt Ivanka Trump and uncle Donald Jr also said how happy they were to greet the baby, although Don Jr joked that he had an axe to grind with his younger brother.
Welcome to the world, baby boy. I can't wait to meet you ❤️ https://t.co/sIkPrFWKO2

— Ivanka Trump (@IvankaTrump) September 12, 2017
Ad. Article continues below.
Congrats buddy. Welcome to the club. Now that the niceties are out of the way it's older brother revenge for that drum set to my kids??? https://t.co/yCW4Wjqh2M

— Donald Trump Jr. (@DonaldJTrumpJr) September 12, 2017
Lara Trump hadn't had an easy time in the lead-up to the birth, with critics piling on her because she went to the gym in the hope of helping her baby come on time. Some commenters on the Instagram post said her stomach looked too small at eight months' pregnant, while others accused of being selfish to try to hurry up the birth.
Ad. Article continues below.
Eric has been married to Lara for three years. He's the executive vice president of the president's business.
Were any of your babies overdue? Did you try any of the remedies usually recommended to bring on the birth?