Trump 'says US should consider death penalty for drug dealers'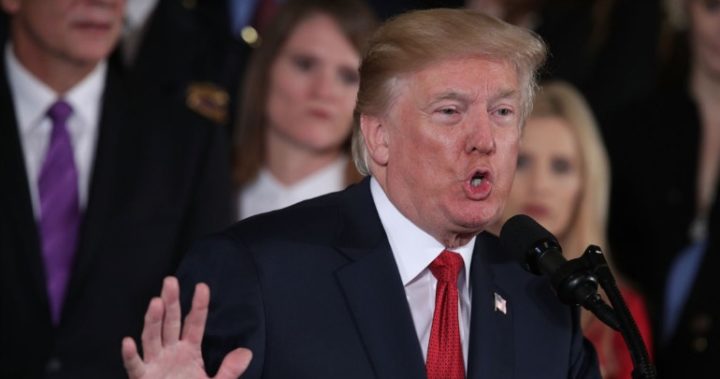 Donald Trump has floated the possibility of introducing the death penalty for drug dealers in the US, in his latest controversial speech.
The US President made the sensational statements at a rally for Republican Rick Saccone in an airport hangar in Pittsburgh on Saturday. Saccone is currently going up against Democrat Conor Lamb.
Covering everything from North Korea negotiations, to his re-election slogan and more, Trump gave a lengthy speech to the crowd, before admitting the possibility of a death penalty for drug dealers was a "discussion we have to start thinking about."
According to the Guardian, he began the segment by praising the criminal justice system in China – and even said he got the idea for the "discussion" from Chinese President Xi Jinping.
However, he did reportedly state: "I don't know if this country's ready for it."
Ad. Article continues below.
"Do you think the drug dealers who kill thousands of people during their lifetime, do you think they care who's on a blue-ribbon committee?" he asked. "The only way to solve the drug problem is through toughness. When you catch a drug dealer, you've got to put him away for a long time."
It comes after he first aired the idea just weeks ago, as a way to fight an opioid epidemic. Meanwhile, The Washington Post reported this weekend that his administration was considering making policy changes so prosecutors could potentially seek the death penalty as a punishment.
"The White House has said one approach it might take is to make trafficking large quantities of fentanyl – a powerful synthetic opioid – a capital crime because even small amounts of the drug can be fatal," the site reported.
Elsewhere, he did take a moment to praise Saccone in the speech, saying "he knows things other people don't know" before slamming the Democratic candidate as "Lamb the Sham".
Read more: Kim Jong Un and Donald Trump to meet for landmark meeting
Ad. Article continues below.
He also spoke about his recent revelation that he had agreed to meet with Kim Jong Un, before hitting out at his predecessors who had failed to organise it before now.
The White House recently confirmed that the North Korean leader would meet him for the first time in May.
Finally, Trump announced his 2020 campaign slogan would be "Keep America great" since he had already "made America great again". 
What do you think of Trump's latest statements? Do you agree, or disagree?