Trump is threatening to 'close down' US government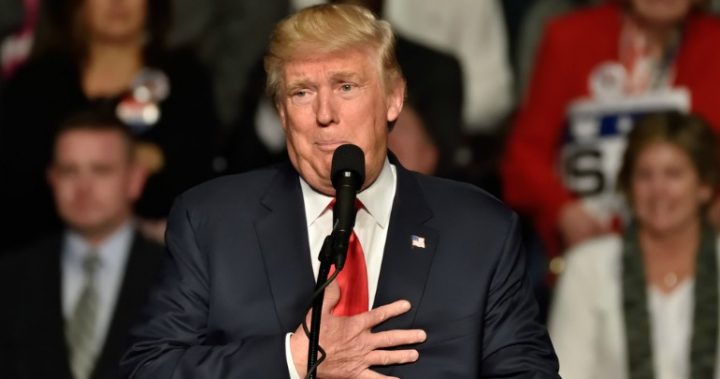 Donald Trump wants that border wall between Mexico and the United States. He wants it so badly that he may not sign a spending bill needed to keep the government running, effectively holding congress hostage until he gets the necessary funds. 
"If we have to close down our government, we're building that wall," the US president said at his latest political rally in Phoenix, Arizona. "One way or the other, we're going to get that wall." 
Many people might dismiss this as more of Trump's grandstanding tactics, on which he often fails to follow through, but experts are saying that a government shutdown is increasingly likely. What's more concerning is that they were predicting the event even before Trump took to the stage in Phoenix and began making these claims. 
Read more: Trump presidency 'is over' as Steve Bannon goes to war
"Trump is spoiling for a fight and the [conservative house] Freedom Caucus haven't had a fight for a while. That's a dangerous dynamic," Jonathan Swan, an Australian journalist and the national political reporter for Axios, says. 
Ad. Article continues below.
Investment banking company Goldman Sachs told its investors on August 18 that the likelihood of a government shutdown is currently fifty-fifty, but one Axios source has blown that figure out of the water with a 75 per cent chance. 
"The peculiar part is that almost everyone I talk to on [Capitol Hill] agrees that it is more likely than not," the source says. 
Read more: Donald Trump laments removal of Confederate statues
So, taking into account Trump's mood and the general acceptance of that fact by US politicians, it seems it's no longer a matter of if but when the government shutdown will happen. Bets are on either September or December, but Axios believes that it should happen sooner rather than later to "allow conservatives and Trump to get it out of their system". 
Read more: Trump's approval ratings plummet to lowest yet
Ad. Article continues below.
A government shutdown will likely affect funding for programs funded by certain laws, including Social Security. There have been 18 shutdowns over the past 41 years, with some lasting just one day, and others lasting up to 16 or 21 days. The most recent shutdown occurred when former president Barack Obama was trying to pass his Obamacare plan. 
Do you think Trump is right to force a government shutdown over the US border wall?