Trump: 'I'd have run into the school unarmed to save kids from shooter'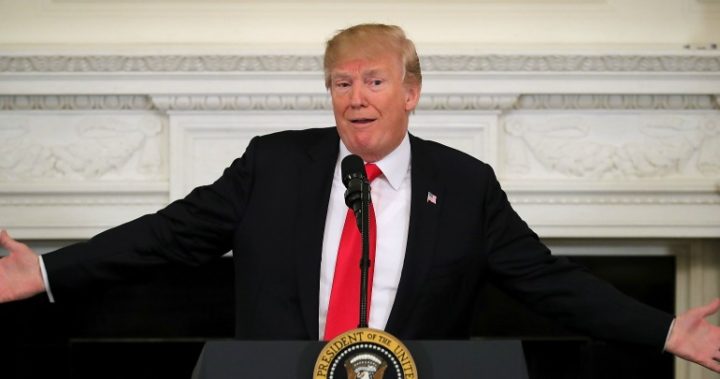 Donald Trump says he would have run unarmed into the Florida school being shot up by a gunman in order to save the teenagers inside.
The US president was commenting on the officer who first responded to the attack on Marjory Stoneman Douglas High School, saying in a meeting with US governors at the White House that the officers who dealt with the shooting "weren't exactly Medal of Honour winners" and added that" the way they performed was frankly disgusting".
His comments came after it emerged that the first responder to the incident – an armed sheriff's deputy – decided to wait outside Stoneman Douglas High School while the shooting took place. Deputy Scot Peterson, who has since resigned, said he thought he would have a better "tactical position" from outside the school. His lawyer told Starts at 60 in a statement that the accusations of cowardice were "patently untrue" and that Paterson thought the gunshots were coming from outside the school. 
The Florida high school shooting resulted in 17 people's deaths. 
Trump told the meeting of governors, however, that he would have behaved very differently to Peterson. "I really believe I'd run in there even if I didn't have a weapon and I think most of the people in this room would have done that, too," he said. 
Ad. Article continues below.
But the president's critics were quick to point out that Trump may have found it hard to run into the school due to his "bone spurs". Trump received five deferments from serving for his country in the Vietnam War, one of which due to a diagnosis of bone spurs – calcium buildups in his heels. At a 2015 news conference he couldn't recall which heel the bone spurs had affected, while his campaign later claimed it was both.
Twitter users were to make fun of Trump's remarks, with the the hashtag #IfOnlyTrumpHadBeenThere trending on the social media platform. Singing superstar Bette Midler was one of them.
Trump said today that he'd have run into that school even if he wasn't armed. Really? With his bone spurs? A fart in his general direction.

— Bette Midler (@BetteMidler) February 26, 2018
Others joked about the notable disasters Trump may have been able to avert had he been in the vicinity, such as Hurricane Katrina.
Ad. Article continues below.
If #Trump had been in New Orleans during Katrina, he would have used his finger to plug the dike and the city would never have even flooded.

— John Moffitt (@JohnRMoffitt) February 26, 2018
And the Titanic disaster.
#IfOnlyTrumpHadBeenThere as the Titanic sank…he could have pushed that iceberg out of the way and saved all those lives!

— Rose Nelson (@RoseNels1951) February 26, 2018
Ad. Article continues below.
And even the course of World War II.
Bone Spurs be damned, he would have taken on Rommel's Afrika Korps in his golf cart armed with just a Niblick. #IfOnlyTrumpHadBeenThere

— J Hougen (@HougenJ) February 26, 2018
Do you think Donald Trump would be able and willing to run into fire to save lives? Or are such actions best left to professional first responders?
Ad. Article continues below.
With Facebook removing news sites from your feeds we ask that you sign up for Starts at 60's emailers here. And to keep us on your wall, join some of our new Facebook groups and clubs:

News Junkies Club – Australia
News Junkies Club – USA 

See news on the change and links to all our other clubs and groups here.