Trump caught ignoring official warning during solar eclipse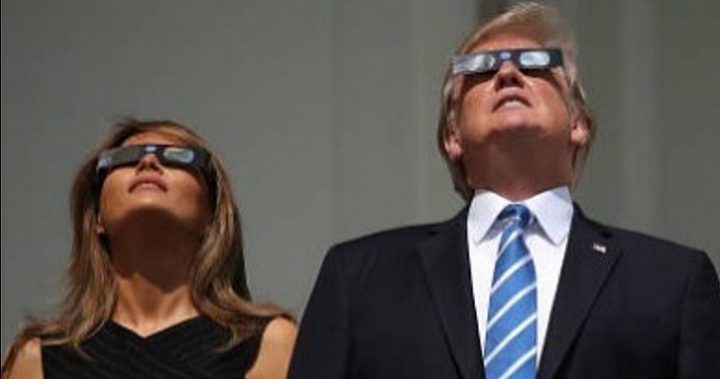 Donald Trump has been caught on camera doing the one thing scientists warn against when watching a solar eclipse: staring directly into the sun.
While America watched on in awe as the moon made it's way across the sun on Monday (local time) for the first full eclipse the country has seen in 38 years, president Trump and his family watched the celestial event from the Truman Balcony at the White House.
Reporters set up cameras on the lawn below and captured the moment the president took off his glasses and stared, squinting into the sun before turning his head away and quickly putting on his glasses again.
The moment was broadcast around the country and it didn't take long for social media to start pointing out the president's error.
Scientist: Don't look directly at the sun.

Trump: 'Fake News' pic.twitter.com/cSAIKMiGkd

— DC Maryland Virginia (@DMVFollowers) August 21, 2017
Ad. Article continues below.
As he did this, someone in a crowd of aides below shouted "Don't look." pic.twitter.com/dtfSLEzcAZ

— Ted Mann (@TMannWSJ) August 21, 2017
yep, trump looked without glasses #solareclipse pic.twitter.com/PDzRNtXL4n

— kelly cohen (@politiCOHEN_) August 21, 2017
Ad. Article continues below.
America has flooded with warnings over the past week about the right and wrong way to watch the eclipse.
NASA warned of the dangers of looking directly into the sun in a statement on their website, saying filtered glasses are a must.
"Looking directly at the sun is unsafe except during the brief total phase of a solar eclipse ("totality"), when the moon entirely blocks the sun's bright face, which will happen only within the narrow path of totality," NASA explained on its website.
"The only safe way to look directly at the uneclipsed or partially eclipsed sun is through special-purpose solar filters, such as 'eclipse glasses.'"
Oregon local Louis Tomosoki told KPTV he was left partially blind after he looked directly into the sun during the 1962 eclipse.
He said it only took 20 seconds for the sun's powerful light to burn a hole in his retina, which has plagued his eyesight ever since.
When was the last time you watched an eclipse? Were you lucky enough to see this one?