Triumphant Barnaby Joyce cruising to even bigger victory in by-election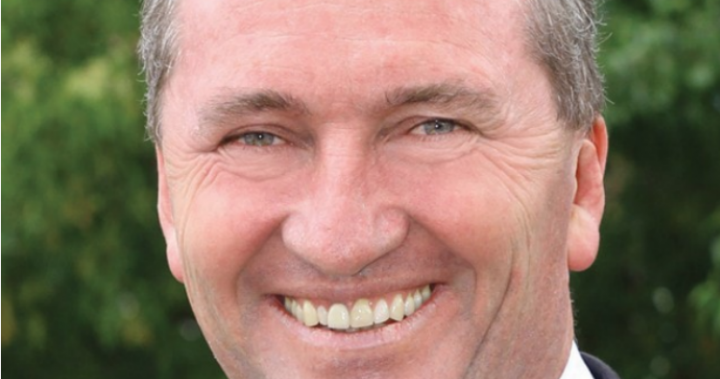 Barnaby Joyce looks set to have won re-election to his seat of New England by a considerable margin, five weeks after he was declared ineligible to hold the seat amid the dual citizenship kerfuffle.
The Australian reported that although counting has not finished, Joyce had taken an unassailable 64 per cent of the votes counted as of late Saturday night, while Labor's David Ewings had 11 per cent.
The ABC's election analyst Antony Green said on Sunday that he was very close to being able to declare official victory.
If Barnaby Joyce can pick up another 1,500 votes on postals his primary vote passes 50% of enrolment and he can be declared elected.

— Antony Green (@AntonyGreenABC) December 2, 2017
Ad. Article continues below.
Prime Minister Malcolm Turnbull was triumphant at an election party alongside Joyce in Tamworth, The Australian reported, quoting him as saying "we're getting the band back together", in reference to the number of high profile MPs seeking re-election after being disqualified.
"To the people of New England, thank you very much – I hold you as close to my heart as I could possibly hold you," Joyce said of the expected election result, according to The Northern Star.
Congratulations @Barnaby_Joyce! A stunning victory in New England and a demonstration of the strength of the Coalition. pic.twitter.com/VXCLrwrz1i

— Malcolm Turnbull (@TurnbullMalcolm) December 2, 2017
The Australian said that Nationals leader Joyce looked set to beat his own result at the last federal election, where he took 52 per cent of the primary vote in his electorate. 
Ad. Article continues below.
The New England by-election was called after the courts found that Joyce was a dual citizen of Australia and New Zealand and thus not qualified to have held the seat.
The Nationals' deputy leader Fiona Nash was also disqualified, the court said, while the Liberals' John Alexander resigned his seat of Bennelong on November 11 after being unable to confirm his citizenship status. 
His decision cost the government coalition its majority in the House of Representatives, and Turnbull's control of the government relies on the majority being regained.
A by-election in Bennelong will be held on December 16, seeing former tennis champ Alexander come up against former New South Wales premier Kristina Keneally.
Nash has renounced her British citizenship but the situation surrounding the former senator for New South Wales is more complex, with the government still attempting to find a replacement for her.
Ad. Article continues below.
Do you think the citizenship saga is a ridiculous distraction from government, or do the rules still have to be followed, even though they may be outdated?