Tony Abbott has inexplicably repeated his most bizarre public gaffe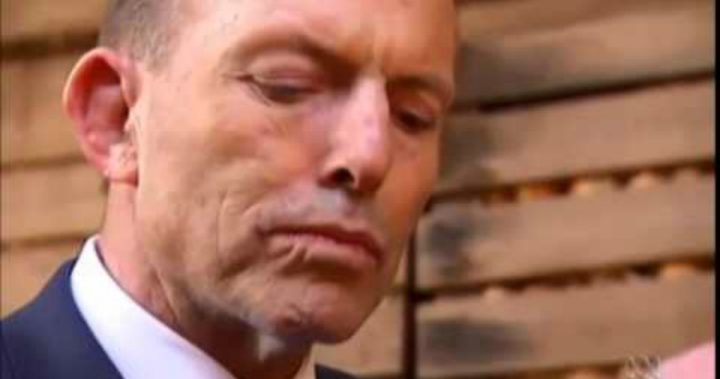 We wouldn't have thought he'd this again, but he has – Tony Abbott has eaten another onion.
Despite having admitted that gnawing on the stinky vegetable back in 2015 probably wasn't one of his finest moments, the former prime minister has chowed down on an onion again, this time in Tasmania.
The Examiner newspaper in Tasmania alluded to the eye-catching event only in passing, and has sadly since confirmed that it didn't catch any footage or snaps of the eye-catching move.
EXCLUSIVE: Only known image of Abbott and the #Launceston onion moments before the "secret bite". No video – stop asking. #auspol pic.twitter.com/XBjRPM3XuJ

— Hayden Johnson (@haydenjohnson94) September 20, 2017
Ad. Article continues below.
In a long story about an anti-bullying website launch attended by Abbott in Launceston, the Examiner notes that "at the launch Mr Abbott was presented with an onion, which he quickly peeled and bit during the press conference".
The reporter involved, Hayden Johnson, has since explained that he was the only media representative in the room at the time and was using his phone to record an interview when Abbott turned away from the cameras to take "a secret bite". There was, however, audio of Abbott eating the onion, the reporter tweeted.Can 
There's a faint crunching sound followed by a trademark Abbott laugh

— Hayden Johnson (@haydenjohnson94) September 20, 2017
Abbott's first go at an onion happened in March 2015, when he was presented with one of the uncooked vegetables at a farm in Moriarty, also in Tasmania. The surprising move earned him incredulous headlines around the world, but the MP said just last week that it was one of the moments in his prime-ministership that he regretted.
Ad. Article continues below.
"I probably shouldn't have winked at Neil Mitchell. I probably shouldn't have eaten an onion. I probably should have had walk coaching," he told News Corp. Alongside onion-gate, he was referring to jokes made about his unusual gait, and about an incident in which he winked at the host of an ABC radio (he was mistaken about the winkee, which was Jon Faine, not Neil Mitchell) when a sex worker was speaking on air.
"We often learn more from our failures than we do from our successes because I suppose failing is searing whereas success we just assume," he said.
Little did he appear to know at the time of the reflective interview that he was just days away from re-enacting one of his more regrettable moves.
We'll update this story if footage emerges of the former PM chomping on this latest onion. In the meantime, we can rest easy that he's unlikely to be stricken with a cold in the near future.
Ad. Article continues below.
Can you believe Tony Abbott has eaten another onion at a public event? Have you ever tried doing the same?