This bizarre Melania Trump theory has everyone confused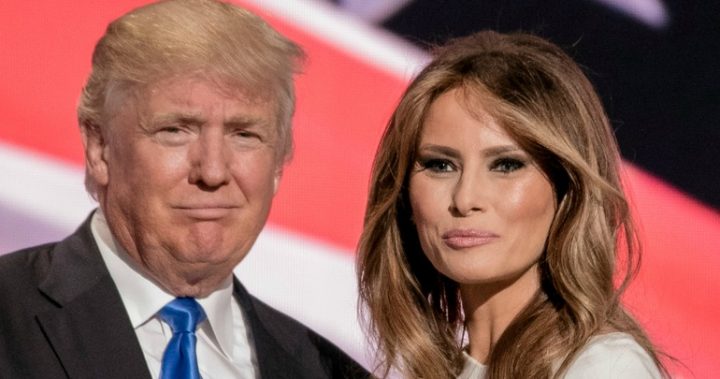 At some point, we've all entertained the fleeting fantasy of having a body double—someone who could do all the tedious jobs we're sick of dealing with. Grocery shopping, housework, standing beside Donald Trump during a press conference … okay, that last one isn't such a common fantasy but people are now certain that Melania Trump has used a body double at least once during her tenure as first lady.
The conspiracy theory has spread through the internet like wildfire since actress Andrea Wagner Barton published a Facebook post comparing images of Melania and pointing out the marked difference in the shape of her nose and hairline. 
"Will the real Melania please stand up?" Wagner Barton began her post. "Is it me or during [Trump's] speech today a decoy 'stood in' for Melania?? And… Why would the moron say 'my wife, Melania, who happens to be right here…' Seriously, watch very closely!" 
The post has since received more than 107,000 shares across Facebook, and people immediately jumped onboard to analyse the situation. 
Ad. Article continues below.
Read more: Melania Trump's 'workman chic': Fab or fail? 
"Crazy!" one person wrote. "Did you see in a press conference a couple weeks ago, he said, 'Melania wishes she could be here,' and she was standing right next to him…" 
"Wow! That is totally not her! Look at that harsh contour on her nose! I've studied her face… totally doesn't look like her to me. What the heck is happening in this world!?!" another commented. 
Read more: Trump speaks out on Melania's stiletto controversy
Others are joining in on the fun, using Photoshop and Snapchat filters to insert themselves into Melania's place as an audition for the new body double position. 
Ad. Article continues below.
It is I, the real Melania, reporting for duty. pic.twitter.com/6NBMSF7TVV

— Kashana (@kashanacauley) October 18, 2017
Others are pointing out that the president's strange turn of phrase could be an even bigger indicator that the conspiracy theory is based in fact. 
Read more: Cool and aloof: Melania rugs up in lush autumn ensemble
"MY WIFE MELANIA WHO HAPPENS TO BE RIGHT HERE" IS EXACTLY WHAT SOMEONE WHOSE WIFE MELANIA HAPPENS TO *NOT* BE RIGHT HERE WOULD SAY https://t.co/vVIz3Q6QQe

— Sam Stryker (@sbstryker) October 18, 2017
Ad. Article continues below.
"'My wife Melania who happens to be right here' is exactly what someone whose wife Melania happens to *not* be right here would say," [sic] one person posted on Twitter. 
Read more: Melania wears sunglasses at night after sad visit to Vegas survivors
Considering Melania has taken to wearing oversized sunglasses for many of her public appearances, even when she's stepping out at night, it doesn't look like the rumours of a body double will be dying down anytime soon. 
Though he has been recently active on Twitter, the president has not yet debunked the rumours about his wife's possible stand-in. 
What do you think of the conspiracy theory?