Study: Support for equal rights associated with higher intelligence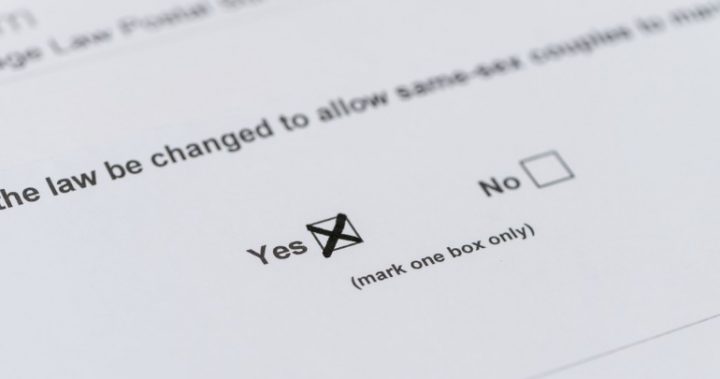 A study reported today has a revealing insight into levels of intelligence associated with support for equal rights. 
ABC News reported that an analysis of the Household, Income and Labour Dynamics in Australia (HILDA) survey (a large, longitudinal survey that is representative of the Australian population) showed a "strong and statistically significant association" between people with higher levels of intelligence, and a greater likelihood of supporting the equal rights of straight and gay couples.
It also claimed that the findings could shed some light on why those opposed to marriage equality tend not to be persuaded by evidence based arguments in the debate which is currently taking place across Australia. 
To draw these conclusions, respondents' scores in a range of cognitive tests were averaged into a scale of cognitive ability with scored ranging from one (being lowest ability) to one (highest ability). 
Respondents' were also asked to answer the question: "Homosexual couples should have the same rights as heterosexual couples do" on a scale from one (strongly disagree) to seven (strongly agree).
Ad. Article continues below.
Results from a sample of more than 11,600 people showed that respondents with lower levels of cognitive ability in 2012 were much less likely than their counterparts with high levels of ability to agree with the question in 2015.
This is certainly an interesting revelation in light of recent reports that the 'yes' vote in the marriage equality postal survey is losing ground. 
Read more: 'Yes' vote losing ground in same-sex marriage debate
This could be an interesting point for Frances Abbott to bring up next time she sees her dad!
Read more: Frances Abbott has taken a leap in support of marriage equality
In a video filmed for Australian Marriage Equality which was released Tuesday morning, Frances Abbott, the youngest daughter of Tony Abbott who vocally opposes same-sex marriage, voiced her support for the 'yes' vote, and spoke of her desire to see her aunt able to legally marry her partner. 
Do these insights stand true in your experience?