'Stop patronising!': Stefanovic and Turnbull's massive on-air blow-up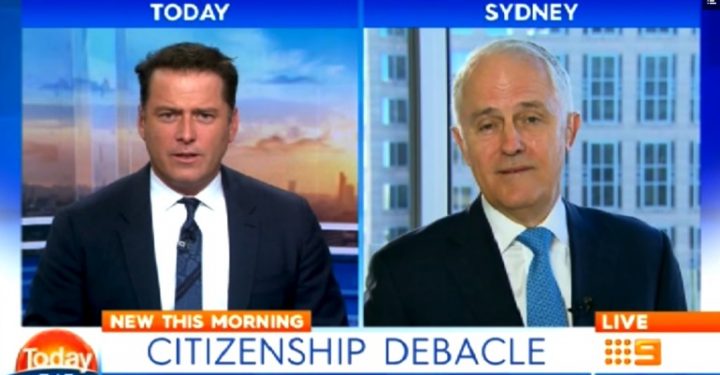 Karl Stefanovic, long-time co-host of the Australian Today show, got into an on-air verbal spat with prime minister Malcolm Turnbull during the breakfast show on Thursday, 9 November. 
Though Stefanovic continued to ask questions about the dual citizenship fiasco that's currently rocking Australian parliament, the PM was determined to push excellent job statistics and prove that parliament was still carrying on with a business-as-usual attitude during the upheaval. 
"Despite all of the frenzy in the media – there has been plenty of frenzy – what we have seen is the creation in the last year of 371,500 jobs, 85 per cent of them full-time. We have had the longest run of job creation – monthly job creation in 23 years." 
But Stefanovic wasn't having it, and he began speaking over the prime minister to try and redirect the conversation. 
"PM, with the greatest respect, you are waffling this morning. You are waffling," Stefanovic said bluntly. 
Ad. Article continues below.
Read more: Lisa Wilkinson and Karl Stefanovic meet up for first time since Today split
Just moments before, the prime minister had told Stefanovic that he was "a good man in a crisis". 
"You know, everyone else gets frenzied, particularly in the media. I'm very calm." 
But his calmness was nowhere to be seen when Turnbull scrambled for a way to address Stefanovic's accusation of waffling. Instead of brushing it off, he decided to accuse Stefanovic of bigotry.
"Karl, you've got a job," Turnbull said heatedly. "If you're looking for a job and you need a job and you've got one because of the strong economic leadership we've provided, you may think it's waffling but if you've been unemployed and you're getting a chance to get a head … you would say you are being very patronising saying young people getting jobs is waffle." 
Ad. Article continues below.
Rather than being taken aback by the prime minister's accusations, Stefanovic seemed delighted by the change in pace. 
"Okay, this is what I want. This is what I want. This is the real you. This is the real you. This is what we want." 
Read more: Lisa Wilkinson breaks silence on how it felt to leave Today
But the PM wasn't done being annoyed with Stefanovic's comments. "And, Karl, is it the real you to patronise people who are out of work and who are getting a chance to get ahead?" 
Stefanovic denied he was being patronising and encouraged the PM to continue showing "the real you", which the prime minister remained adamant that he was doing. 
Ad. Article continues below.
"Those are the big questions and that's what I'm providing the answers to," Turnbull said. 
Twitter users were quick to point out the discrepancy in Turnbull's comments, posting videos of the incident online. 
Malcolm Turnbull: "Everyone else gets frenzied. I'm very calm…"

Turnbull seconds later: "YOU are being very patronising!!!"#auspol @TheTodayShow pic.twitter.com/6S2NRVTLTS

— #BringBackAbbott (@TeamTAbbott) November 9, 2017
Who do you think was in the right? Was the PM trying to skirt the issue, or was Stefanovic being patronising?