Shock revelations Tony Abbott was too drunk to do his job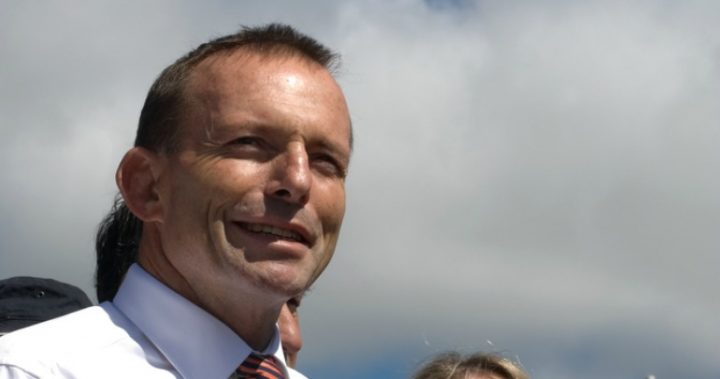 Most people know that if they drink on the job, or they show up to work intoxicated, they are highly like to be (justifiably) dismissed from that job. That is, it seems, unless you're running the country. 
Former Prime Minister Tony Abbott has admitted that in 2009, he got too drunk to vote on important votes in Federal Parliament, including one on Prime Minister at the time Kevin Rudd's controversial stimulus plan, in behaviour which Malcolm Turnbull has slammed as "disappointing" and "unacceptable"
Read more: Tony Abbott slams same-sex marriage vote as PC ploy
Abbott made the confession to political journalist and commentator Annabel Crabb for an upcoming episode of ABC series The House. 
"I lay down and next thing I knew it was morning," Abbott told Crabb. 
Ad. Article continues below.
He explained that on the night of the stimulus vote he was in the parliamentary dining room with his colleagues, Peter Costello and Kevin Andrews.
"I think quite a few bottles of wine were consumed by the three of us.
"I think all of us were in a mellow and reflective mood so the reflections went on for longer and later than they should have and the impact was rather greater than it should have been.
"I think I famously slept through several divisions."
Read more: Tony Abbott demands Malcolm Turnbull show him respect
Ad. Article continues below.
ABC News reported that Wayne Swan, who was treasurer at the time, had been asked to withdraw comments he made back then about Abbott being too drunk to vote. 
"I talked about this in the Parliament in 2013," Swan said.
"I was asked to withdraw when I said Tony Abbott was drunk during these critical votes in the Parliament, way back.
"Of course, now we know the truth — he slept through some of the most important votes in the Australian Parliament in over 50 or 60 years."
Turnbull spoke to 3AW radio about the matter now that it is out in the open, saying Abbott is the only MP he has ever known to be too drunk to vote. 
Ad. Article continues below.
"I was disappointed, I can't remember anyone else missing a vote because they were too drunk to get into the chamber, but the fact is that Tony has 'fessed up to it, he knows it was an error or whatever," Turnbull said. 
"He has acknowledged it, and that is good.
"It is clearly not acceptable or admirable in any way."
Does it make you angry that someone who is supposed to be representing you in parliament was drunk during important votes?