Sam Dastyari says racism is 'normal' now in Australia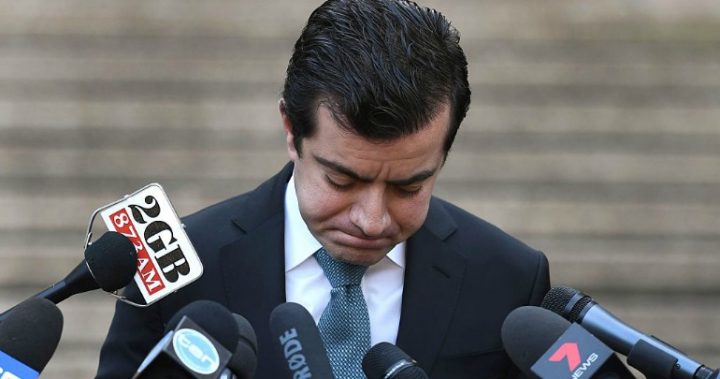 New South Wales senator Sam Dastyari has copped a string of racial abuse at a pub in Melbourne overnight while promoting his new book. 
Born in Iran, Dastyari identities as a non-practicing Muslim, but that didn't stop members of the Patriot Blue group from approaching him and filming their encounter. 
"You want some money from China? You want some money or what?" one of the men asks. The group also calls Dastyari a "terrorist" and "little monkey" and follows him back to his table, continuing to abuse him in front of his friends and companions. 
Dastyari's companions began firing back and filming the encounter at the table, which Dastyari posted to his own Facebook page with the headline "Stalked by racists".
"I don't normally like to post about these people – it gives them oxygen – but tonight I'm making an exception," Dastyari captioned the video. 
Ad. Article continues below.
During the course of the video taken at the table, which runs for under two minutes, the men protest that they are from Patriot Blue rather than United Patriot, and are offended at the insinuation that their comments towards the senator are considered racist. 
"We're all racist, yeah? Is that what you said?" 
"No, I didn't say they're all racists," Dastyari shoots back. "I said you're racist." 
After the men leave and Dastyari begins the promotion of his book on stage with Labor MP Tim Watts, he's asked whether incidents like that happen often. 
Ad. Article continues below.
"It may have something to do with being a Muslim. Hard to believe," Dastyari jokes, before saying that a lot of the abuse is thanks to the rise of the "One Nation right".
"These are people who feel incredibly empowered because of what Pauline Hanson has done for them … you dance so far to the right that it gives those a little bit further out a sense of entitlement and a sense of belonging." 
While Dastyari has been doing the rounds on breakfast TV and other media, shedding light on the situation and confirming that he is still considering whether or not to press charges, the Patriot Blue Facebook group has been maintaining that this is a "fake racist narrative". 
"Sam's a strong bloke. He's got a thick skin. He's been in politics for a long time. He gives as good as he gets, he called us rednecks, which is a racist term in fact. I think he's all right. I think he's playing the victim a little bit," Neil Erikson, one of the Patriot Blue members from the video, has told the media since then. 
Prime minister Malcolm Turnbull also appeared on Sunrise and spoke to co-host Samantha Armytage about the issue. 
Ad. Article continues below.
"There is no place for racial vilification in Australia," Turnbull said. "Our society is built on a foundation of mutual respect and so we should have zero tolerance for racism and racial, racist abuse like that." 
When asked whether Dastyari should press charges, the prime minister deflected the issue, saying it's a matter for Dastyari to decide on his own. 
"I'm fairly lucky," Dastyari has said during his interviews. " I'm a federal politican. I can speak for myself. I've got a lot of support. I worry about the people who don't have that support." 
Do you think the encounter was motivated by racism?