Report reveals extremes Trump's team goes to keep him happy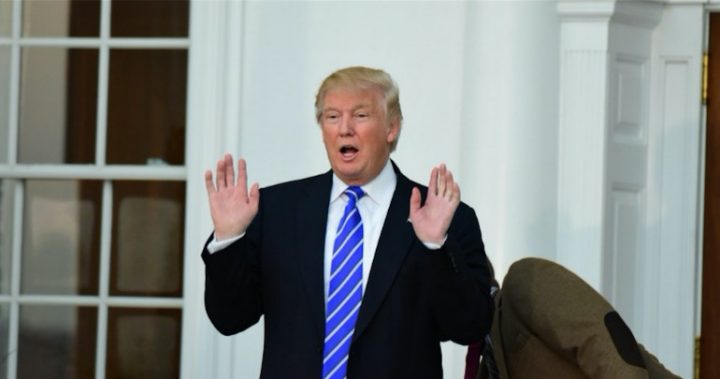 Running the White House is a stressful job, but Donald Trump's team have found a unique way to keep a smile on the president's dial.
Vice reports that a small team of Republican Party staff work diligently from 6am every morning to find positive news stories and social media comments to send to the president twice a day.
Folders filled with good news about Trump are reportedly hand delivered to him in the morning and afternoon with former White House chief of staff Reince Priebus and press secretary Sean Spicer competing for the honour before they departed.
Vice says they confirmed the story with three current and former White House staffers and that on days when there isn't enough good news to fill the folders, they include photos of the president looking powerful.
Staffers reportedly refer to the folders as "the propaganda document".
Ad. Article continues below.
Read more: 'The White House is a dump': President Trump
The news articles and photos are collected by staffers at the Republican National Committee's "war room", which has expanded from four to 10 people since the GOP won the election.
Both the GOP and Democrats have a war room, which is used to research how the parties and their candidates are being covered in the news.
However, one former White House staffer told Vice that if they had presented Barack Obama with a similar folder "he would have roared with laughter".
The "propaganda document" is the latest in a string of reports about how White House staff keep Trump happy engaged in conversations and meetings.
Ad. Article continues below.
Read more: Trump threatens North Korea, 'forgets' Asian neighbours
In May, world leaders attending the Nato Summit in Brussels were told to keep their presentations short as the president only has a four-minute attention span.
In the past, Trump has asked his staff to restrict memos to one page and it's rare for his meetings with them to last longer than 15 minutes.
Vice says they contacted Spicer to ask him about the good-news folders, who said: "While I won't comment on materials we share with the president, this is not accurate on several levels," he said in an email.
He would not, however, say what was inaccurate about the story.
What do you think about this? Do you like Trump's unconventional style? Or do you prefer the president's of the past?