Report: Jared Kushner 'used private email for White House business'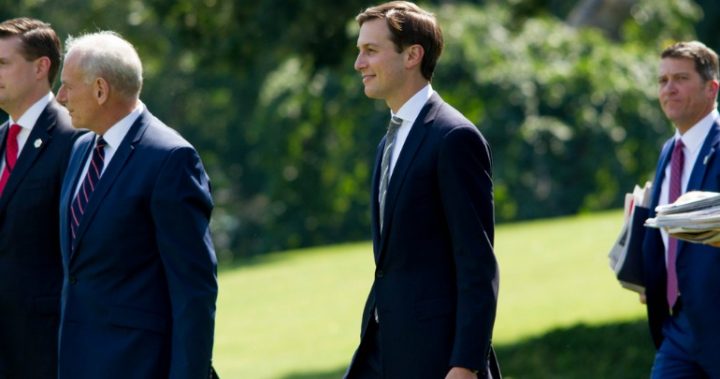 US President Donald Trump's son-in-law and adviser used a private email account to do White House business, according to a breaking news story by Politico.
Trump and his supporters had lambasted rival presidential candidate Hillary Clinton for using a private email server during her stint as the country's secretary of state, making the Politico revelation even more surprising.
The report said that Jared Kushner, who is married to Trump's daughter Ivanka and is also the president's senior adviser, used the private account to communicate with other Trump administration officials, outside advisers and others during the team's transition to the White House in December, according to the report.
The report didn't suggest that Kushner had shared any sensitive material in the emails, which were sent while he was serving as a senior campaign adviser to Trump. Kushner's lawyer told Politico that Kushner that the emails were "usually forwarded news articles or political commentary".
Neither Trump nor Kushner himself have publicly commented on the report as yet.
Ad. Article continues below.
Trump and his supporters had campaigned heavily against Clinton on claims that she had deleted thousands of emails from her private server during the Obama administration, with Trump calling for her jailing over the allegations and supporters changing "lock her up" at public events.
The Federal Bureau of Investigation did a long-running investigation into whether Clinton had mishandled classified material by using a non-government email, and many have blamed then-FBI director James Comey for contributing to Clinton's defeat at the hands of Trump by only concluding days before the election that there had been no wrongdoing on her part.
That Kushner would have used a private email address for official business, with the knowledge of what his father-in-law was alleging against Clinton, wasn't lost on tweeters, who greeted the Politico story with glee.
Attorney Seth Abramson, a frequent media commentator, was one.
GRASSLEY on CLINTON (thus KUSHNER): "She was using private email instead of gov't email. It probably violates FOIA and NatSec legislation." pic.twitter.com/xdjByAspHS

— Seth Abramson (@SethAbramson) September 24, 2017
Ad. Article continues below.
As was Democrat lawmaker Ted Lieu from California.
I am not going to chant LOCK HIM UP. But I will ask again, why does Jared Kushner still have a security clearance? https://t.co/bTxsltyc9D

— Ted Lieu (@tedlieu) September 24, 2017
Meanwhile, journalist Carole Radziwill suspected that Donald Trump's move to slam NFL players for failing to stand during the national anthem, which he did in a lengthy Twitter rant on Sunday, was an attempt to "bury the story" about Kushner's emails.
Ad. Article continues below.
If anyone is wondering why out of the blue Trump attacked the NFL they should read the story he's trying to bury…?https://t.co/FTs2A8Mano

— Carole Radziwill (@CaroleRadziwill) September 24, 2017
Do you think it's hypocritical of Jared Kushner to have used a private email for White House business, or is his case different to that of Hillary Clinton?