President and first lady can't stop laughing at kids' Halloween costumes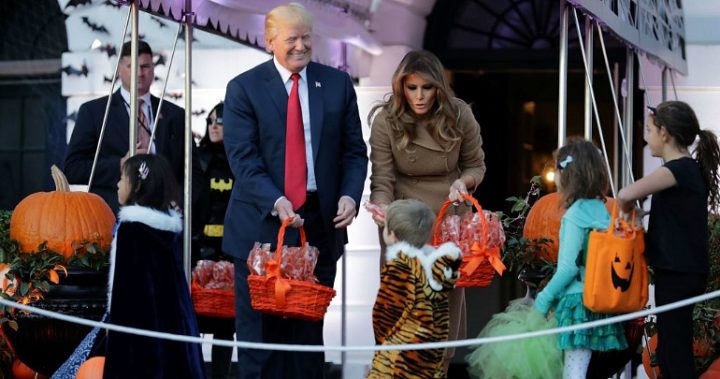 The White House transformed from a majestic structure to the scariest house in Washington on Monday complete with giant spider webs and Jack O'lanterns for the annual Halloween event.
President Donald Trump and first lady Melania were front and centre, greeting dozens of children and handing out candy to the masses.
Halloween has been a big event at the White House for years now with presidents and their wives inviting military families and children from locals schools to celebrate the freakiest night of the year.
Ad. Article continues below.
The Trumps stood in front of the White House entrance on Monday and handed out treats to dozens of little kids who were dressed to impress.
The Telegraph reports that the trick-or-treaters received individual gift bags containing presidential M&Ms, a home-baked cookie and other candies.
Ad. Article continues below.
The first couple couldn't hide their laughter at some of the more creative outfits and played scared, much to the children's delight.
Some 6,000 people were invited to the event, which was also attended by White House staff and their families.
Ad. Article continues below.
As always, the People's House was decorated to the nines with spooky music playing over the loudspeaker, a machine blowing 'scary' fog over the lawn and pumpkins carved out into the faces of past presidents.
No awards were handed out for best costume, which is fine because we think they're all winners!
Are you handing out candy this year? Do you still dress up and decorate your house?