Pope Francis says today's immigrants are like Mary and Joseph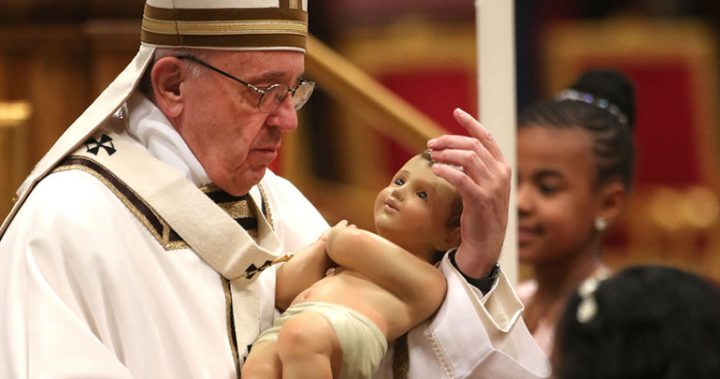 Pope Francis has spoken at his annual Christmas Eve mass overnight, defending immigrants and drawing comparison to Mary and Joseph who could not find a place to stay in Bethlehem. He has called for those of faith to welcome foreigners and help them rehome. In his speech, watched widely worldwide, Francis called for a "new social imagination … in which none have to feel that there is no room for them on this earth."
Ad. Article continues below.
The Christmas mass was held at St Peters Basilica in Rome where 10,000 people watched inside and many more from the giant square outside.
The Gospel reading at the service told the story Mary and Jesus travelling from Nazareth to Bethlehem to be registered for a census ordered by Roman Emperor Caesar Augustus.
"So many other footsteps are hidden in the footsteps of Joseph and Mary. We see the tracks of entire families forced to set out in our own day. We see the tracks of millions of persons who do not choose to go away, but driven from their land, leave behind their dear ones," Pope Francis said to the followers.
Even the shepherds who the Bible says were the first to see the child Jesus were "forced to live on the edges of society" and considered dirty, smelly foreigners, he said. "Everything about them generated mistrust. They were men and women to be kept at a distance, to be feared."
Pope Francis has made the plight of migrants a large part of his agenda, standing up for people often persecuted by politicians and citizens.
Do you agree with his stance and sensitivity towards immigrants?