Report claims NZ's Manus offer helped revive people-smuggling trade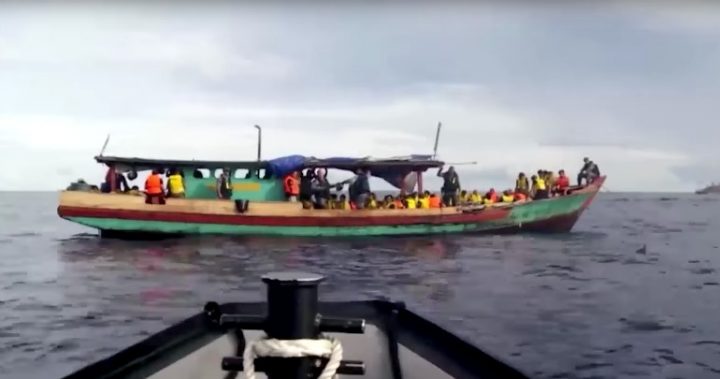 With the Australian government's crackdown on asylum seekers who arrive in Aussie territory by boat now well known, an exclusive new investigation by The Australian has suggested that people-smugglers are promising asylum-seekers entry into the country via New Zealand.
The report suggests that people on board a boat that was stopped late last month by a naval patrol had actually intended to travel to New Zealand and not Australia. People on board were promised that entering New Zealand was a "back door" way of entering Australia, the newspaper reported.
It went on to say that it was believed New Zealand's offer last year to house 150 asylum seekers from Manus Island had prompted a new rise in people-smuggling operations. New Zealand Prime Minister Jacinda Ardern ruffled feathers when she publicly made the offer, which Australian Prime Minister Malcolm Turnbull declined.
Intelligence suggests that there is very little chance that any boats would actually arrive in New Zealand and that it would be up to the Australian government and authorities to handle the possible rise of people-smugglers and asylum seekers. Operation Sovereign Borders recently launched a campaign that told people-smugglers they would get caught.
Ad. Article continues below.
"You will be turned back," the advertisement said. It also explained how a boat from Sri Lanka was intercepted by Australian authorities and that all 29 people on board were returned to their home country.
It detailed how Australia introduced its toughest border-protection policies in 2013 and that every single people-smuggling boat from Sri Lanka that had tried to reach Australia had been turned back. "People reached Australia in the past, but no one gets through our defences now," the clip promised. "Don't waste your money or risk your life. If you try to reach Australia illegally by boat, you will be turned back."
Despite the blunt message being rolled out in hotspots for people-smugglers, a source from the Department of Home Affairs told The Australian that people are continuing to offer false hope for asylum seekers. "It confirms what our intelligence has been telling us: people-smuggling syndicates remain active in our region and continue to market their services using false promises of settlement in Australia or New Zealand," the source revealed.
"Whether or not people-smugglers genuinely intend for their boats to reach New Zealand, it is clear that they are using publicity around New Zealand's resettlement offer to market their services to vulnerable people in Sri Lanka and elsewhere."
Opposition Leader Bill Shorten supported New Zealand's resettlement offer, however, while Hollywood superstar Russell Crowe offered to house refugees from Manus Island.
Ad. Article continues below.
Manus. A Nations shame. Lives held in limbo . Lives lived in fear & despair . It's fucking disgraceful

— Russell Crowe (@russellcrowe) November 1, 2017
I've thought about this . I believe I could house and find jobs for 6. I'm sure there'd be other Australians who would do the same

— Russell Crowe (@russellcrowe) November 1, 2017
Are you concerned the people-smuggling trade could be revived? Or do you think Australia should be more welcoming of people arriving by boat?
Ad. Article continues below.
---
With Facebook removing news sites from your feeds we ask that you sign up for Starts at 60's emailers here. And to keep us on your wall, join some of our new Facebook groups and clubs:

News Junkies Club – Australia
News Junkies Club – USA 

See news on the change and links to all our other clubs and groups here.