Pauline Hanson calls for families of foreign criminals to be deported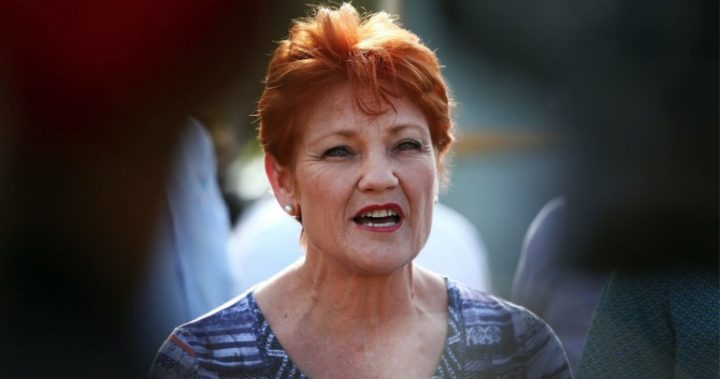 Families of foreigners who commit crimes should be kicked out of the country along with the perpetrator, says One Nation leader Pauline Hanson. The Queensland senator issued a statement on Thursday, calling for parents to take more responsibility for their children's actions and to face the consequences if they behave badly.
"Migrants who choose to engage in antisocial, criminal behaviours should not be granted Australian citizenship and should face harsher penalties such as deportation," she said. "I also believe that under certain circumstances families of those who have committed extreme offences should also face the threat of deportation.
"It high time parents start taking more responsibility for the actions of their children [SIC}."
Under Australia's current laws, foreigners who are sentenced to a year or more in jail are deported. However, their families are allowed to remain in the country.
Hanson also reiterated her calls for a "zero net immigration policy" and said more "needs to be done to make sure migrants are properly vetted and willing to integrate into the Australian way of life".
Ad. Article continues below.
"A zero net immigration programme aimed at stabilising Australia's population should be immediately adopted by the Australian Government to alleviate pressure on our struggling public sector and to relieve the pressure the current levels of immigration are having on the housing market and the availability of jobs," she said.
It comes after months of political back and forth over perceived African gang crime in Victoria and claims that some magistrates are going easy of foreign criminals.
Home Affairs Minister Peter Dutton told on A Current Affair on Monday that some foreigners were getting "a soft touch" in court.
"Some people are getting a soft touch because they are not citizens of this country," he said. "The community expectation, particularly around sentencing, should be met. And there are a number of cases around where it's not being met."
Crimes committed by foreigners have been under the spotlight in recent years, with increasing fears over terrorist attacks and foreign fighters returning home to Australia from the Middle East. A survey from the Productivity Commission released on Monday shows that less than 80 per cent of Victorians feel safe in their homes at night, while 86 per cent of Australians overall feel safe in their homes.
While Hanson's proposal has been met with support from many, others have questions whether or not it's fair to punish families for the actions of others.
What do you think? Should families be deported with the criminal, or is that unfair?