Pauline Hanson and Sarah Hanson-Young clash on Sunrise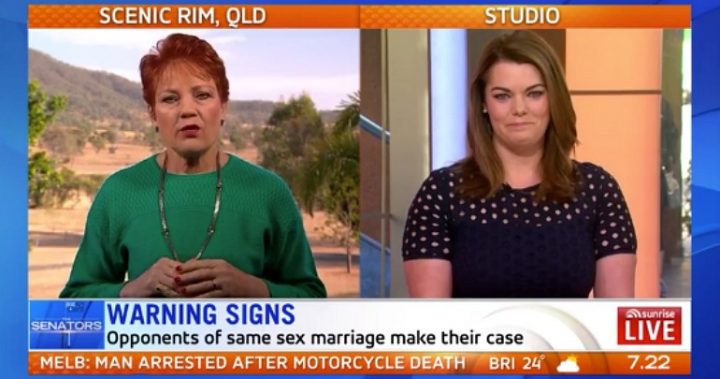 One Nation leader Pauline Hanson says the nation is "being treated as fools" over the same-sex marriage postal vote and has called for the ballot results to be ruled invalid.
Senator Hanson appeared on Channel 7's Sunrise this morning with Greens Senator Sarah Hanson-Young and it wasn't long before the pair started trading blows over the hotly contested issue.
Senator Hanson claimed that many Australians were selling their votes or had had their ballot paper stolen from them and argued the process should be ditched.
"We are being treated as fools," she told Sunrise host Samantha Armytage.
"Let the people have their say in the proper way at the next election.
Ad. Article continues below.
"There should be no hate in this. Everyone should realise we are given a say in this."
Senator Hanson-Young interrupted her to ask: "Are you suggesting we scrap this and put this to another vote? … that just seems crazy."
"Let's just get it done," she added.
Senator Hanson pushed her point further though, saying: "You know that votes are being sold out there, you know that they've been stolen and you know it's not correct.
"It's not right and if this comes up of people saying no they don't want same-sex marriage, are you just going to keep quiet and say absolutely nothing about it?.
Ad. Article continues below.
"I bet my every last dollar you won't."
Armytage interjected to ask the pair what would happen if the postal vote fails and parliament doesn't make same-sex marriage legal.
"I think they're are going to be many broken hearts," Senator Hanson-Young said, before taking a swipe at prime minister Malcolm Turnbull.
"This is a man who broke the nation's heart before, we can't let him do it again. We have to vote yes."
She then addressed Senator Hanson again, saying: "You'll run the fear campaign, you'll say kids can't call their parents mum and dad. We all know that's crap. That's absolute crap."
Ad. Article continues below.
The One Nation leader was quick to interrupt her though, saying: "Sarah, there you go again. I'm sick and tired of the greens of you misrepresnreting my words."
What are your thoughts on this? Do you think the postal vote is a good idea? Will you be voting?