One Nation disarray: Senator quits hours after being sworn in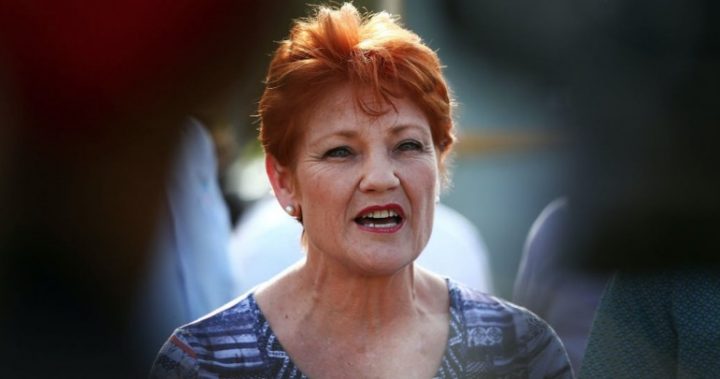 One Nation has been dealt a major blow after its newest Senator defected from the party just one hour after being sworn in this morning.
Fraser Anning, who was chosen by One Nation to fill Malcolm Roberts' vacant seat, will now sit as an Independent after his relationship with party leader Pauline Hanson "went to hell in a handbasket".
Anning told The Australian he and Hanson had a tense meeting about four of his staff members before the swearing in ceremony and said she treated him "like a naughty schoolboy".
"When I walked into this meeting this morning I was very rudely told that none of my staff were to walk in here," he told The Australian.
"That was Pauline. Pauline was on her high horse a bit."
Ad. Article continues below.
Hanson was quick to issue a media release confirming the pair clashed over Anning's staff and said she had barred them from the meeting room because of their disloyalty to her and Senator Roberts — their former employer.
"Mr Anning was advised that David Goodridge, Leon Ashby, Richard Howard and Boston White were not welcome to this morning's Party room meeting, because of their disloyalty to their former employer and myself," Hanson said in a media release.
"Fraser Anning said 'I know where this is going' and stood up and walked out of the room."
Hanson accused Anning of ignoring her for the past few months and said he had repeatedly refused requests to confirm his plans for the future.
The party-room drama comes after Hanson clashed with Greens Senator Sarah Hanson-Young on Sunrise this morning after the later questioned why Hanson hadn't condemned the far-right activists who racially abused Sam Dastyari last week.
Ad. Article continues below.
"I just want to ask her [Hanson-Young], does she have to work at being a nasty piece of work or does this just come naturally?" Hanson shot back.
"I made it quite clear last week that no one deserves this. It is unacceptable. I think if Sarah had a look at what I copped for years: I had people throwing urine, tomatoes, eggs. I never heard one member of parliament stand up and support me," she said.
"It was not acceptable 20 years ago… it was absolutely disgusting. This is it, Sam [Dastyari] gets a few nasty words.
"You have called me time and time again a racist. You're a nasty piece of work Sarah Hanson-Young."
'I had people throwing urine, tomatoes, eggs… I never heard one member of Parliament stand up and support me.' – @PaulineHansonOz #sun7 pic.twitter.com/ZnRYscfCGX

— Sunrise (@sunriseon7) November 12, 2017
What are your thoughts? Has Australian politics gone batty, or is this just the nature of the game?