Nothing wrong with Donald Trump's mental capacity, doc finds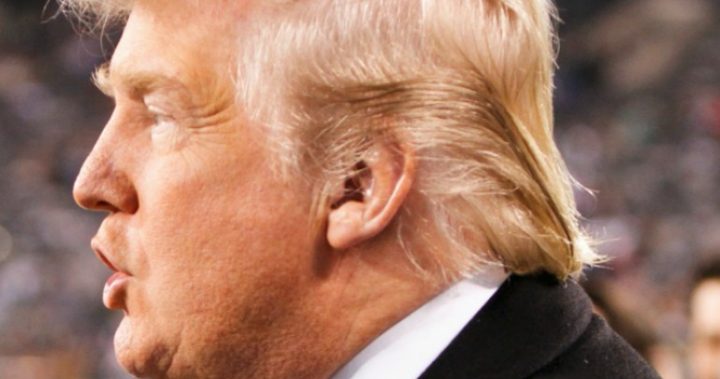 Plenty of aspersions have been cast on Donald Trump's mental capacity and mental health, but the US president has an answer for his critics: a perfect score on a cognitive test that would detect impaired brain function.
The New York Times and other news outlets reported that Dr Ronny L. Jackson, who's the White House doctor, said there was no indication whatsoever that Trump had "any cognitive issues". "I've found no reason whatsoever to think the president has any issues whatsoever with his thought processes," he added.
The doc did say, however, the president needed to exercise more and was suffering from high cholesterol, and revealed that Trump slept just four or five hours each night and took Propecia for hair loss.
Trump had requested the test after criticism of his decision-making, with some people saying he may be suffering from dementia, including Alzheimer's Disease. The claims gained strength when the president appeared to slur his words during a speech in December, but the doctor said that was likely just the result of a dry mouth. 
Trump is the oldest person ever elected as US president for the first time, and his decisions during his first year in office have raised plenty of hackles (most recently, he reportedly called a number of countries "s***holes" from which the US did not want migrants). More recently, though, a book by well-known biographer Michael Wolff, called Fire and Fury, claimed that some of Trump's aides considered the president unfit for office.
Ad. Article continues below.
Trump himself hit back at those claims, describing himself on Twitter as a "very stable genius", and calling Wolff a "mentally deranged author" and "total loser".
The test Jackson used is called the Montreal Cognitive Assessment and is commonly used to screen for mild cognitive impairment and Alzheimer's, but can also be used to screen for Parkinson's disease and multiple sclerosis as well as severe mental illnesses such as depression and schizophrenia 
It's not clear whether the test also screens for less serious personality disorders such as narcissistic personality disorder, which is another impairment Trump has been accused of suffering from.
Do you think there's anything wrong with Donald Trump's mental state? Or does he just have the same personality traits as all people who see themselves as 'leaders'?
With Facebook removing news sites from your feeds we ask that you sign up for Starts at 60's emailers here. And to keep us on your wall, join some of our new Facebook groups and clubs:

Ad. Article continues below.
News Junkies Club – Australia
News Junkies Club – USA 
See news on the change and links to all our other clubs and groups here.