'No thanks': Malcolm Turnbull rejects NZ refugee offer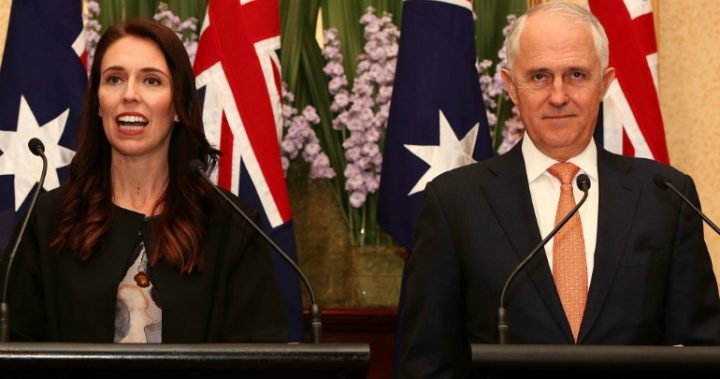 Malcolm Tunbull has rejected New Zealand's offer to resettle 150 refugees from Manus Island, saying he might consider it further down the track.
It comes of the stand off on Manus Island reachers its fifth day. More than 600 refugees and asylum seekers have barricaded themselves inside the detention centre, which closed on Thursday.
The group says they are afraid of being attacked by locals if they leave.
The prime minister met with his New Zealand counterpart, newly elected Jacinda Arden, on Sunday and had a "frank" and "challenging" conversation.
New Zealand first made the offer to resettle refugees in 2013, but has been repeatedly knocked back by both Labor and Coalition governments.
Ad. Article continues below.
Speaking to the press on Sunday, Turnbull said he was focussed on Australia's refugee deal with the US and wouldn't consider New Zealand's offer until after it was finalised.
"We thank New Zealand for making an offer, we are not taking it up at this time," he said, reports the ABC.
"What we are seeking to do is ensure there are opportunities for resettlement for the people on Manus Island and Nauru.
"We have an arrangement with the United States where a substantial number — 1,250 — can, subject to the US rigours vetting, be resettled in the United States.
"We want to pursue those, conclude those arrangements, and then in the wake of that obviously we can consider other ones."
Ad. Article continues below.
The issue of resettling refugees and asylum seekers has plagued Australia for years now.
The United Nations has repeatedly criticised both Labor and Coalition governments for their handling of the issue and called conditions at the Nauru Island detention centre "inhuman and degrading".
Do you think Turnbull should have taken the New Zealand offer?