Nick Xenophon the latest pollie snared in dual citizenship bungle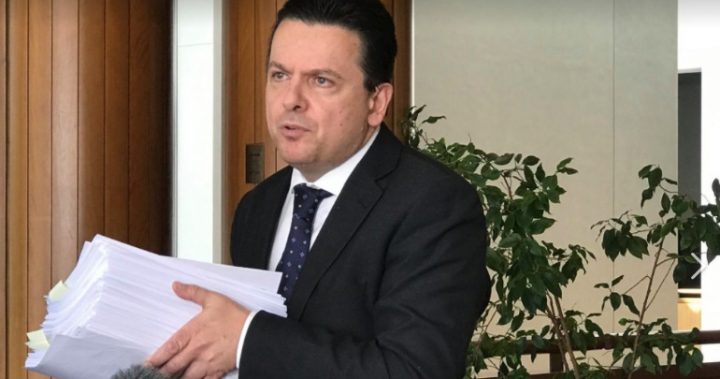 Nick Xenophon, the powerful crossbench senator from South Australia, has revealed that he's a British citizen.
Like the Nationals' Barnaby Joyce, Xenophon will refer himself to the High Court to decide whether he is eligible to serve as a member of parliament.
That makes him the sixth federal politician to refer such a case to the High Court, after falling foul of the section of the Australian constitution that forbids members of parliament from holding citizenship of countries in addition to Australia.
Xenophon said that the British Home office had just confirmed that because his father was born in the then-British territory of Cyprus, Xenophone was a "British Overseas Citizen" by descent. His father moved to Australia in 1951 on a British passport and Xenophon was born in Adelaide in 1959, according to reports
Xenophon said at a press conference that he would continue to work as a senator while the High Court looked at his case, and an image he tweeted shortly after his announcement indicated that the independent wasn't taking the issue too seriously.
Ad. Article continues below.
Nick Xenophon refers himself to High Court after Home Office confirms obscure & peculiar British citizenship pic.twitter.com/8fF4HAympc

— Nick Xenophon (@Nick_Xenophon) August 19, 2017
As well as Xenophon and Joyce, the Nationals' Matt Canavan and Fiona Nash, One Nation's Malcolm Roberts and the Greens' Scott Ludlam and Larissa Waters to have come a cropper under the little-known constitutional rule.
Ludlam and Waters resigned as a result, having said that they been been born in New Zealand and Canada respectively but were unaware that they continued to hold citizenship of their birth countries.
Canavan, who was born in Australia, has argued that his mother applied with Italian citizen on his behalf without his knowledge.
Ad. Article continues below.
Joyce, who was born in Australia but had NZ citizenship by way of a rule that automatically givens citizenship to the children born abroad of New Zealand citizens, has since renounced his right to a NZ passport. 
Like Xenophon. Nash's father was born in Britain, so the Nationals' deputy leader may be a British citizen by descent.  
Roberts' case, meanwhile, is cloudy, because it's not yet clear whether he had renounced his right to British citizenship at the time he was elected in 2016. Roberts was born in India to a welsh father.
Do you expect more politicians to announce that they're also surprise dual-citizens?