Nick Xenophon finds new way to keep living on the public purse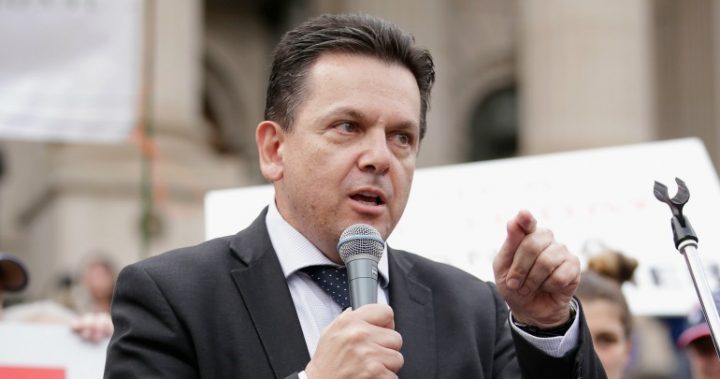 Ex-senator Nick Xenophon has come up with a interesting new way to earn an income after being ousted from parliament last month. His plan will cost the taxpayers money but ensure he snags a pretty impressive pay packet along the way.
As you'll probably recall, Xenophon was the sixth federal politician caught up in a dual-citizenship scandal that saw a number of high-profile leaders banished from parliament.
After it was revealed that he was a dual British citizen, Xenophon announced he would quit federal parliament and turn his focus to politics at a state level.
Read more: Nick Xenophon the latest pollie snared in dual citizenship bungle
While he's currently gearing up to contest the Liberal-held lower house seat of Hartley at next year's election, Xenophon will also lead the SA party by being a marginal seat candidate, and he'll maintain the position as leader of his federal party.
Ad. Article continues below.
The Australian now reports that Xenophon has taken a $1,500-a-week taxpayer-funded salary as a part-time federal political staffer. How? Strangely, he's now working as an adviser to his own former principal adviser, Rex Patrick. 
Patrick was sworn in as Xenophon's replacement in the Senate earlier in the week; it is believed Xenophon took the advisory role to "pay the bills" — something that could become even more pressing for the ex-senator if he's forced to pay back wages accrued while he was ineligible to perform his parliamentary duties due to his dual citizenship. 
He told The Australian he didn't want to "be paid by the party", so taxpayers will be footing the bill. Xenophon's new salary is believed to be around $80,000. 
The SA Best party is expected to receive $900,000 from South Australian taxpayers after the election.
Other politicians, including Senator Cory Bernardi, have slammed Xenophon's new job.
Ad. Article continues below.
"I am calling BS," Corey Bernadi posted on Twitter. "This is a scandal."
After 20yrs in politics and millions in public funding @Nick_Xenophon quits Senate to become a staffer to 'pay the bills'. I am calling BS. This is a scandal #auspol #aBetterWay @AuConservatives

— Cory Bernardi (@corybernardi) November 15, 2017
Patrick doesn't believe he's done anything wrong in hiring Xenophon, suggesting that he's entitled to three advisers and he can arrange them in any way he sees fit. There's certainly nothing illegal about the position, despite the anger targeted at the Xenophon. 
While Patrick didn't disclose the conditions of Xenophon's contract, he did confirm some aspects of the role: "Nick's position is part-time. He provides advice on policy, political matters, bills before parliament and so on and can also assist with media advice.
Ad. Article continues below.
"Nick will be working in excess of the 19 hours a week he will be paid for."
According to The Australian, Xenophon's new role will also entitle him to an array of benefits that other staffers receive.
Along with Bernardi, current Opposition Leader Steven Marshal said it wasn't right for Xenophon to lead a party and hold another part-time job.
"To be a leader of a party is a full-time job," Marshal explained. "Nick Xenophon got one year into a six-year term. I've got a real problem with this.
"I don't think this is the right thing for him to take this taxpayer-funded job when he's supposed to be the head of the party that wants to hold control of the parliament in South Australia."
What do you think of Nick Xenophon's new job? Are you angry that he's taken a position funded by taxpayers?