'My top 10 triumphs': Kevin Rudd toots his own horn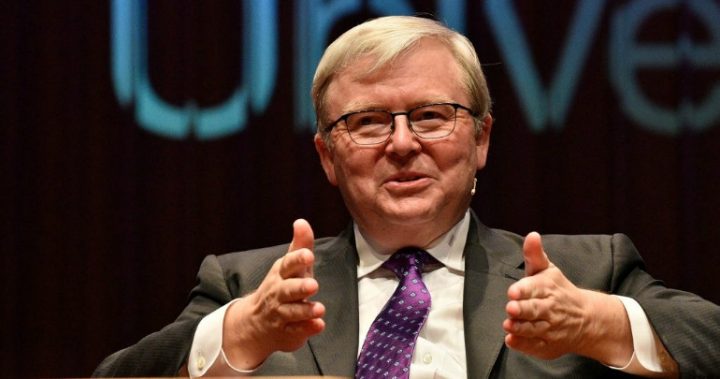 Do you remember the day Kevin Rudd was elected? Because he sure does.
The former prime minister has penned an enthusiastic piece for The Australian on the 10-year anniversary of his election, reminicing about the good old days and his top 10 achievements while in office.
"A decade on since the election of my government, none of us can lay claim to perfect objectivity in reflecting on what we got right and wrong. Least of all me," he began.
"But here's my top 10 of what I think we got right in our period in office."
Number one on the list was defeating John Howard, who Rudd called, "the most formidable conservative leader since Robert Menzies". Labor had been pipped to the post four times by Howard and taking him down was the party's top priority.
Ad. Article continues below.
With the catchy 'Kevin '07' campaign behind him and the keys to The Lodge in his hands, Rudd was ready to get down to business.
The GFC was gunning down the barrel towards him, but Rudd says his second biggest achievement in office was carrying Australia through the economic crisis.
We prevented "Australia from falling into recession during the global financial crisis, in contrast to every other major economy, thereby saving the jobs of hundreds of thousands of Australians," he wrote.
While the Rudd government has long lauded this as one of their biggest conquests, some experts argue Australia only made it through the GFC relatively unscathed because of the strong economic legacy left behind by the Howard government.
Further down the list, Rudd praises his influence on establishing the G20, setting up the National Broadband Network until, he says, "Abbott and Turnbull buggered it by changing it from fibre optic to the premises to fibre optic to the node", and strengthening Australia's foreign relations ties.
Ad. Article continues below.
The 1000-word article goes on to list the Kyoto Protocol (Australia's renewable energy policy), education and health reform and the historic national apology to Australia's Indigenous people.
Towards the end of his article, Rudd concedes his government didn't get everything write in office, but says he's proud of what they got right.
The former PM also challenged Tony Abbott and prime minister Malcolm Turnbull "produce anything comparable to this list of achievements for their own period in government".
Do you agree with Rudd's list of achievements? Do you think he was a good PM or were you glad to see the back of him?