Michelle Obama can't resist subtle Trump dig, after he's caught fibbing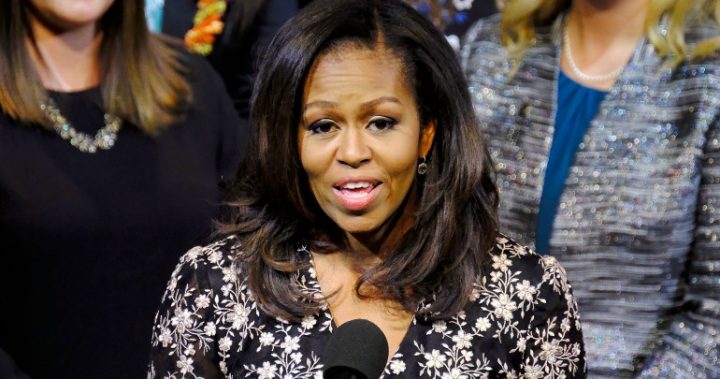 Michelle Obama may have moved out of the White House but that hasn't stopped her paying attention to what's going on in politics, and she didn't miss the opportunity for what sounded like a little jab at her husband's successor.
The former first lady of the US was speaking at the School Counselor of the Year ceremony when she noted the importance of the job held by the award winners, saying "counselors and educators have a far bigger impact on our kids' lives than any president or first lady".
So far, so innocent. But then she went on to hint that the behaviour of President Donald Trump wasn't perhaps the best example for children to follow.
"I know this work isn't easy, especially right now," Obama said, according to a CNN report. "I know there's a lot of anxiety out there. And there's no denying that our kids, what they see on TV, the kind of behavior being modelled in public life, all of that, yes, impacts their behaviour and their character."
Trump has frequently been accused of 'un-presidential' behaviour, which has included being caught out in obvious lies (just this week he claimed his State of the Union speech was the most-watched in history, but viewing data shows that it was the sixth-most-watched), abusing opponents on Twitter and denigrating other countries. 
Ad. Article continues below.
Thank you for all of the nice compliments and reviews on the State of the Union speech. 45.6 million people watched, the highest number in history. @FoxNews beat every other Network, for the first time ever, with 11.7 million people tuning in. Delivered from the heart!

— Donald J. Trump (@realDonaldTrump) February 1, 2018
And the Wall Street Journal hasn't helped the president by claiming that Trump's lawyer paid Stormy Daniels, an adult entertainment star, US$130,000 to remain quiet about a sexual encounter in 2006 with the now-president. Daniels has denied such an encounter took place and the White House told the WSJ that it had already said during the 2016 election campaign that the claims were false.
Some of those incidents may have been on Michelle Obama's mind when she praised people who "model decency and dignity and integrity", adding that that "more than anything is what shapes our children and that's what makes America great". (Trump's campaign slogan was Make America Great Again.)
Although Obama has kept a lower profile since she and her family left the White House a year ago, she did appear on TV this week to celebrate TV host Ellen Degeneres' 60th birthday on The Ellen Show, where she recommended largely forgetting what's going on in Washington. And the former first lady's appearance indicates she's still very popular with a swathe of the American population.
Ad. Article continues below.
Deadline reported that the show featuring Michelle Obama scored the highest ratings for Ellen in almost three years.
Obama's continued to worth with a project she started when husband Barack Obama was president, called the Reach Higher initiative that encourages young people to continue their education past high school, whether it be in a training program or a university.
Do you agree with Michelle Obama that children are most influenced by those close to them? Do you this the coarsening of public discourse has a wider impact on society?