Meet Michael McCormack, who's set to be your new deputy prime minister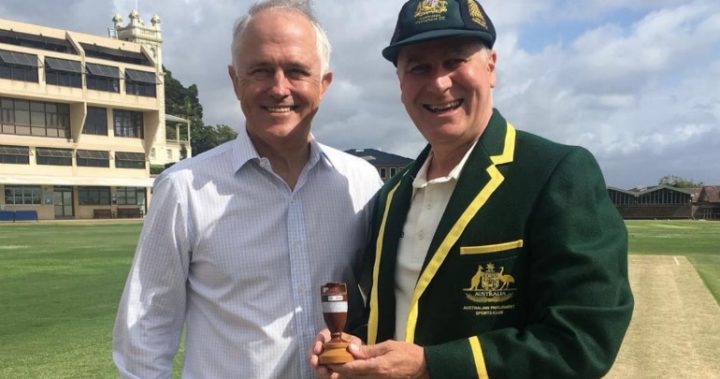 Michael McCormack is set to become Australia's new deputy prime minister, according to reports.
Who, you might ask? 
The Wagga Wagga MP and current veterans affairs minister is so far the only National Party member to officially declare his interest in taking part in a leadership vote. The 'winner' will replace Barnaby Joyce as the head of the party and thus the second-most-powerful person in the governing coalition. Joyce is due to formally resign at a meeting of the party early today.
Both The Australian and the ABC reported that with McCormack the only one who felt he had the required support to win the party poll – the outlets both report that David Gillespie, the MP for Lyne, considered running but wasn't confident he had sufficient support – barring something untoward occurring, he would be declared the Nationals leader today.
Read more: Stepping down was the only thing Barnaby Joyce could do
Ad. Article continues below.
McCormack has been in federal parliament as the representative of the Riverina region in New South Wales since 2010. Yet many Aussies likely know little about their new deputy PM. So, here's some handy facts:
The 53-year-old's electorate, at 48,988 square kilometre, covers an area that's bigger than bigger than Switzerland
He's a military history enthusiast, is also the minister for defence personnel and every year creates a booklet to encourage school kids in Riverina write poems or short stores about Anzac Day
He was a farmer's boy, growing up on two farms, Marrar and Brucedale, in the region he know represents
He started his working career as a reporter, with a journalism cadetship with the The Daily Advertiser newspaper in Wagga Wagga in 1981
He's been married to wife Catherine Shaw since 1986 and has three children
In 1991, at the age of 27 he became the editor of the paper, making him what he says was youngest-ever editor of a daily newspaper in Australia at the time
He came under fire just two years later for publishing an editorial that linked homosexuality to Aids and calling for gay pride parades to be scrapped. He's since apologised multiple times for the piece and said he's learned to "accept all people regardless of their sexual orientation"
Before entering parliament, he ran his own publishing business
He's a cricket fan and still  plays as often as possible with Wagga Wagga's St Michael's Cricket Club. He also likes horse racing and was  director and the official historian of the Murrumbidgee Turf Club from 1994 to 2003
He owns the largest collection of bound copies of The Times newspaper anywhere in the world outside London
He considered rivalling Joyce for leadership of the nationals when Warren Truss retired as leader in February 2016, but decided against it
He twice missed out on winning the party's deputy leader position, each time by just one vote.
Did you know much about Michael McCormack before his name hit the headlines today? Are you glad to have a break from the Barnaby baby issue so the government can get on with governing?