Melania Trump's low staff costs show difference in first ladies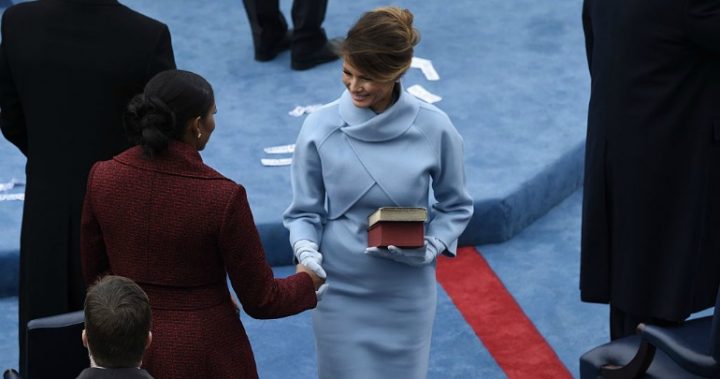 When you look at things from a purely monetary perspective, it would appear that Melania Trump has come out on top in a battle against Michelle Obama for the best first lady status. A recent Fox News report revealed that Trump has far fewer aides on her payroll than Obama did in her inaugural year as first lady. 
Annual White House reports sent to Congress showed that n 2008, when Barack Obama took his place as the 44th president of the United States, Michelle Obama had 16 people working for her, with combined salaries clocking in at $1.24 million a year (AU$1.59 million). Comparatively, figures from June show that Melania Trump has just four. Those four salaries resulted in a combined total of $486,700 (AU$622,593).
Both administrations "acknowledged several additional staffers beyond those listed in the report", which could bring Obama's total to 24 and Trump's to nine. It's a massive difference, but it goes to show how the two first ladies approached their first year in office. 
Read more: Melania Trump dazzles in figure-hugging white dress
"As with all things that she does, [Melania] is being very deliberate in her hiring, focusing on quality over quantity," Stephanie Grisham, the first lady's communications director, wrote. "It is important to her that the team is a good fit for what she wants to accomplish as first lady, and that everyone works well together. She also wants to be mindful and responsible when it comes to taxpayer money." 
Ad. Article continues below.
This "mindful and responsible" approach is a marked difference from Trump's first few months as first lady, which she spent in New York with her son, Barron, as the school year finished. Constant reports during this time revealed that the Trump administration was spending a fortune of taxpayer money on personal security; some reports even estimated that the first few months of the Trump administration's security eclipsed the entire first term of the Obama administration. 
Read more: Why is Melania Trump spending $150,000 a day?
But the expenses of each first lady tells a far more detailed story: while Trump's solo public appearances and campaigns are still few and far between, Obama entered the White House with a clear plan to use her time there as effectively as possible and create change with initiatives such as her Let's Move! child obesity campaign. 
While we've spent the past eight years watching Michelle Obama go from strength to strength in politics and activism, there's no one way to be a first lady. She may have set a benchmark but it's not one that Melania Trump has to meet. 
"[Melania] is more like a Pat Nixon or a Bess Truman than a Hillary Clinton or a Michelle Obama," Andre Och, a first lady historian, said in the Fox News article. 
Do you think the first lady should have a clearer role in the White House?
Important information: The information provided on this website is of a general nature and for information purposes only. It does not take into account your objectives, financial situation or needs. It is not financial product advice and must not be relied upon as such. Before making any financial decision you should determine whether the information is appropriate in terms of your particular circumstances and seek advice from an independent licensed financial services professional.