Melania looks less than impressed during press conference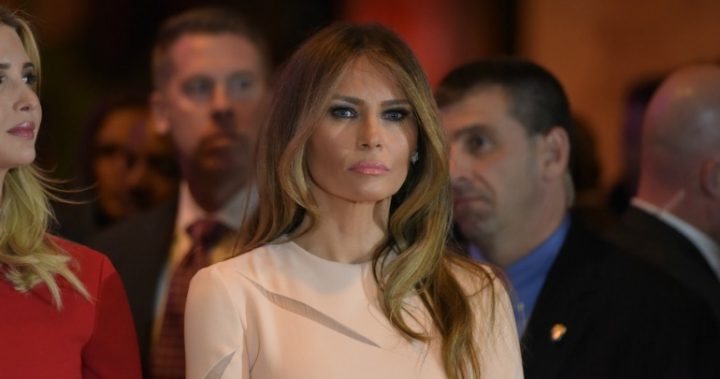 Despite Melania Trump's husband, US President Donald Trump, talking about a cause which she has publicly thrown her support behind via social media, the first lady looks less than impressed as she sits dutifully beside him at a recent press conference addressing opioid addiction. 
Even as Trump appears to laugh with reporters, Melania's facial expression remains unmoved.
And while she may just genuinely be concerned for the opioid addiction crisis, the first lady does not look happy.
Ad. Article continues below.
However, it does seem she may have found her cause but it also has many scratching their hands in confusion over what happened to her previous pledge to tackle cyberbullying. 
The first lady took to social media to publicly pledge against drug addiction following her husband's press conference during which he also threatened North Korea.
Read more: Trump threatens North Korea, 'forgets' Asian neighbours
Opioids are destroying our youth/people. Mtg w @Potus & @SecPriceMD today to give my support to #STOPDRUGADDICTION pic.twitter.com/aAjNNnu98n

— Melania Trump (@FLOTUS) August 8, 2017
Ad. Article continues below.
And while it's great to see Melania throw her well-heeled shoes behind such an important cause, it's got many people wondering what happened to her pledge to tackle cyberbullying? 
It's no secret her husband loves using Twitter to air his grievances about anything and everything – from slandering predecessor Barack Obama to weighing in on celebrity relationships. 
Obama is, without question, the WORST EVER president. I predict he will now do something really bad and totally stupid to show manhood!

— Donald J. Trump (@realDonaldTrump) June 6, 2014
Ad. Article continues below.
Robert Pattinson should not take back Kristen Stewart. She cheated on him like a dog & will do it again–just watch. He can do much better!

— Donald J. Trump (@realDonaldTrump) October 17, 2012
So when Melania declared war on cyberbullying, more than a few eyebrows raised.
But it seems the first lady has forgotten about her previous cause as she hasn't made comment on it since January. 
When asked why the first lady hadn't done anything about her pledge to tackle cyberbullying, a White House spokesperson told The Daily Beast in June that Melania had been "too busy moving" into the White House. 
Have you ever changed your mind about a cause you previously supported?