Malcolm Turnbull raps on live TV, calls Waleed Aly a 'downer'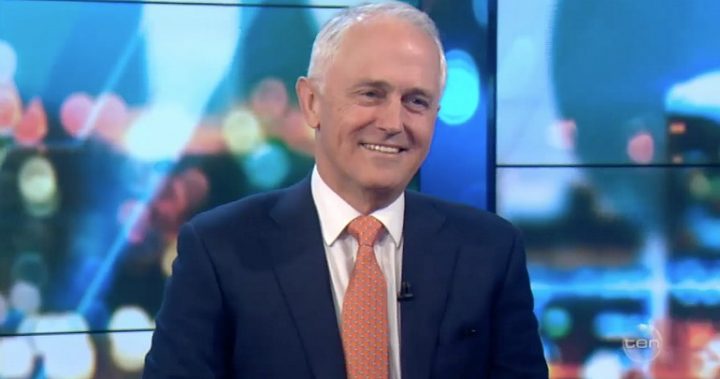 Just call him Prime Minister Cool.
Malcolm Turnbull made a rather hilarious appearance on The Project last night, performing an impromptu rap about the AFL and calling host Waleed Aly a "downer" and "dull".
Turnbull was in great spirits as the interview kicked off with talk about the upcoming footy finals, dropping a few rhymes about the panel's hosts and their favourite teams.
"We'll do some rapping here. Waleed, you're the man, you're a Tigers fan. (Fitzy), you can talk, the Crows can squawk," he rapped much to the audience's amusement.
While the PM seemed to be in the mood for a lighthearted chat, things took a turn when host Waleed Aly tried to steer the conversation to the ongoing argument about the NRL Grand Final entertainment, which will feature rap artist Macklemore and his hit song Same Love about same-sex marriage.
Ad. Article continues below.
Tony Abbott has been a vocal protestor and is leading the call for the song to be banned from the halftime show.
"We are having fun Waleed, why are you such a downer?" the PM exclaimed. "Everyone's having fun, there are two grand finals here in Melbourne, everyone's being happy and you want to be grim and torture this issue and go on and on about the song.
"You will talk about this song for longer than it takes to sing the song!"
After being pressed on the issue by Aly, Turnbull conceded he thought it was hypocritical of Abbott to argue for free speech and then turn around in an attempt to ban the song.
"Well, let me put it this way … trying to censor the playlist at the half time entertainment at the grand final is not consistent with taking a Liberal approach to free speech. I am a free speech person."
Ad. Article continues below.
It was definitely one of the PM's most light-hearted appearences and no doubt one we won't forget anytime soon!
What do you think of his appearance? Do you think the song should be banned from the halftime show?