Kevin Rudd and Alan Jones say Turnbull is 'out of his depth' as PM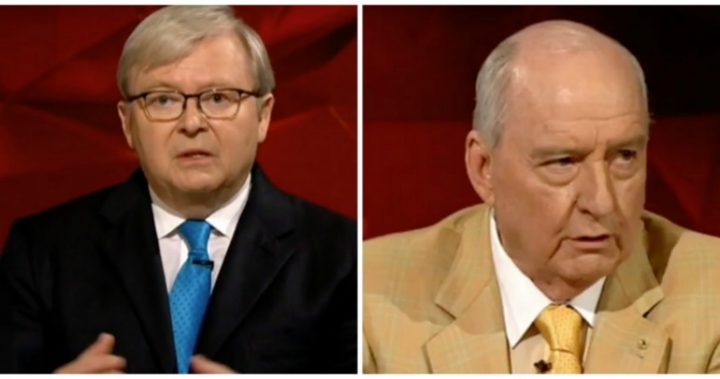 You probably think they have absolutely nothing in common but former Prime Minister Kevin Rudd and radio shock jock Alan Jones have come out swinging when it comes to the current leader of our country.
The pair were guests on this week's Q&A episode on The ABC and agreed that Malcolm Turnbull isn't doing the Liberals any favours by being in charge.
It comes after a shocking few weeks for the PM.
Read more: Malcolm Turnbull reveals new energy policy. How much will you save?
His new energy policy was widely criticised by the public, not to mention his disastrous comments about the NBN and how it probably isn't going to make a profit.
Ad. Article continues below.
And who could forget his deputy PM Barnaby Joyce being booted from parliament following a citizenship scandal?
Read more: Joyce wants to change constitution after citizenship scandal
Jones and Rudd, along with panellists Laura Tingle and Judith Brett, debated whether they thought Turnbull was fit to continue as Prime Minister and whether he was "out of his depth as PM".
Jones was quick to have his say, explaining that he thought the Liberals knew Turnbull was dragging them down: "Someone has to have the guts to stand up and say, 'There's an elephant in the room here'. We can't win with this bloke in charge."
Ad. Article continues below.
He said he believes Opposition Leader Bill Shorten knows what he's doing and that Aussies are warming to the idea of him as Prime Minister.
Jones said: "Shorten's no mug, no political mug. When he goes out into the supermarkets and the shopping centres – or when there's a flood-ravaged area – Bill Shorten has a way of resonating with these people."
Kevin Rudd added that it was issues that impact everyday Australians such as the NBN that cast his doubts over Turnbull.
He recounted that many people he'd met in Queensland had turned on Turnbull: "I was actually surprised in Queensland about how down people were on Malcolm. Across the board.
"People who are running businesses. People who were teachers. People here, people there."
Ad. Article continues below.
Rudd, who knows first-hand how important the public opinion can be when you're running the country, went as far to say that he's never seen this kind of outrage before.
He explained: "I had not encountered that before with previous conservative leaders. I don't know what he's done to deserve that."
Do you agree? Who will you be voting for at the next election?