Julie Bishop joins political slanging match with security warning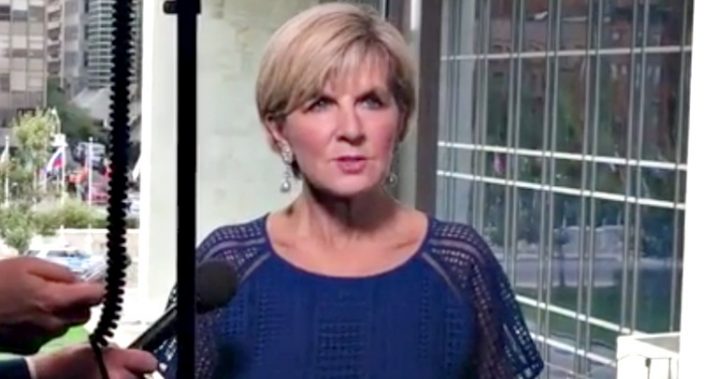 First Kim John-un called Donald Trump a "mentally deranged US dotard". North Korea also threatened to test a hydrogen bomb in the pacific yesterday.
Then Trump said the North Korean Leader was "obviously a madman".
Kim Jong Un of North Korea, who is obviously a madman who doesn't mind starving or killing his people, will be tested like never before!

— Donald J. Trump (@realDonaldTrump) September 22, 2017
Now Julie Bishop has fired her own harsh shots, albeit with less name calling.
Ad. Article continues below.
While speaking as Australia's delegation at this week's General Assembly,  filling in for Prime Minister Malcolm Turnbull, she said the actions of Kim John-un are threatening security of millions of people.
The Australian Foreign Minister used her address at the event to call on China, Russia, United Kingdom, France and the United States to ensure sanctions against the regime were enforced.
"It is crucial that all United Nations member states and especially the permanent five, who have a particular responsibility, strictly implement these sanctions to compel North Korea to abandon its illegal programs," Ms Bishop told the General Assembly in New York, reports The Australian.
Ad. Article continues below.
"The authority of the council must be defended and upheld.
"Australia will play our part in helping to resolve this crisis."
North Korean Foreign Minister Ri Yong Ho is scheduled to speak later today.
Read more: Julie Bishop on celeb photo frenzy in New York.
Bishop also went against Trump on his thoughts on the Paris Climate Accord. While he's said the US has pledged to leave, she said Australia will be endorsing it. 
Ad. Article continues below.
"Australia is a strong supporter of the Paris agreement, and here at the United Nations we have voiced our support specifically on risk mitigation for coral reefs, which are among the most valuable environments on our planet," she said.
"They support more biodiversity than almost any other ecosystem, they're vital to the worlds fisheries, protect our coastlines and generate significant tourism revenue."
Do you think strong action needs to be made against North Korea or is that just cause for more trouble?