Joyce wants to change constitution after citizenship scandal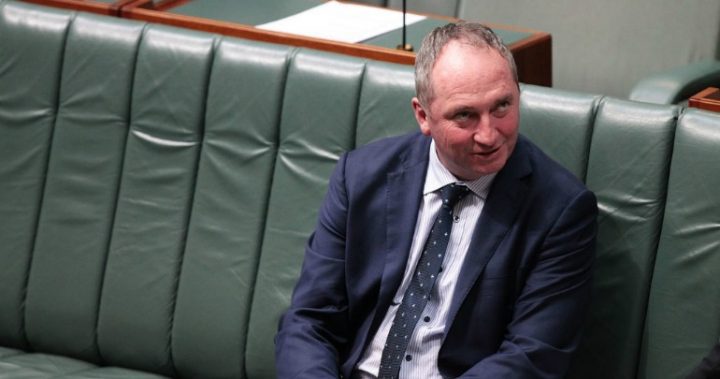 He's been booted from Australian parliament following a citizenship scandal and now Barnaby Joyce is calling for a referendum on the constitution.
Last Friday, Joyce, along with Scott Ludlam, Larissa Waters and Fiona Nash were disqualified from parliament.
As it currently stands, the Australian constitution states that a person can be disqualified from Parliament if they are "under any acknowledgment of allegiance, obedience, or adherence to a foreign power, or [are] subject or a citizen or entitled to the rights or privileges of a subject or a citizen of a foreign power."
Given that Joyce was a duel citizen of New Zealand at the time he was elected, the former Deputy Prime Minster was stripped of his title.
While he said he respected the court's decision on Friday, he stood by his claims that he didn't realise he was anything but Australian: "I had no reason to believe I was a citizen of any other country by Australia," he explained.
Ad. Article continues below.
"I was born just there. Just there. I grew up over there. And I served in our nation's Defence Forces."
Joyce thinks a change should be made to section 44 of the constitution and believes that voters in his electoral are outraged at what has happened.
Speaking to ABC radio, Joyce said: "Everywhere I go, the overwhelming sentiment in the New England is people are saying: 'How could you be born in the Tamworth Base Hospital, where your great grandmother was born in Tamworth, where your great grandfather was born in Glen Innes, where you served in the Australian Army Reserves and somehow you are not an Australian?'
"I mean, how does that work? To be quite frank, I have a hard time trying to explain that to them."
Prime Minister Malcolm Turnbull has already dismissed calls for a referendum, while Labor frontbencher Jason Clare said it wouldn't work: "If politicians put a proposal to the Australian people that just made it easier for politicians to become members of parliament, I think the Australian people would rightly tell us to get stuffed," he told ABC.
Joyce is currently campaigning to win back his seat at the upcoming by-election.
Should we change the constitution? Should foreign-born citizens be allowed to be politicians?