John Howard says we should judge Trump by substance, not style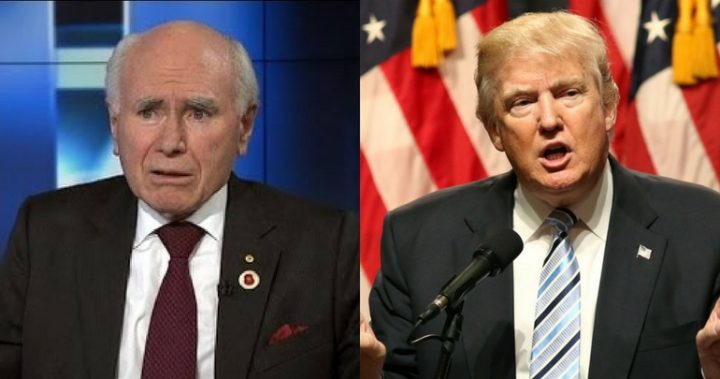 We should judge Donald Trump based on his substance, not his style. That is, according to former Australian Prime Minister John Howard, who made the comments in a speech at a US-Australia relations conference in Sydney, Australia on Monday evening. 
At the conference, hosted by Australian and US embassies and think tanks, Howard said that "it is very important to look to the substance of what the American administration is doing and not be distracted by the style and externalities."
Nine News reported that he offered up the US President's response to the Syrian chemical attack on civilians earlier this year as an example of the administration's good leadership. 
"That was consummately executed, both in a military sense and also in a diplomatic sense and it won the applause of the world."
Howard also said that he sees "a return to normalcy in the personnel," after the loss of controversial strategist Steve Bannon from the White House this week. 
Ad. Article continues below.
Bannon's resignation follows months of upheaval among the White House's top staff, with the losses of Press Secretary Sean Spicer, Chief of Staff Reince Priebus, and Communications Director Anthony Scaramucci in quick succession. 
Read more: Shock as yet another Trump staffer is sent packing
According to Nine, Howard's comments were met with "murmuring" from the audience, and certainly not everyone agreed with his assessment, with one Sydney University academic telling AAP that Howard is "delusional". 
"I think he's got the blinkers on with the US," history professor James Curran said.
"I'm not too sure where the substance is, I haven't seen it." 
What do you think of Howard's comments; right on the money, or "delusional"?