Russell Crowe weighs-in on dual citizenship political fiasco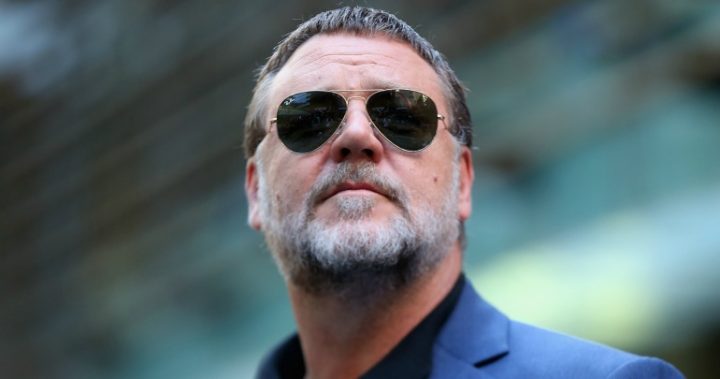 Russell Crowe will soon to feature in a new big budget bushranger film about Ned Kelly, to be filmed near Ballarat in Victoria.
While he's getting set to play the role of an Irish convict, he's been busy putting his own political convictions about Australia to social media.
Earlier this month the Hollywood star said he thought he'd be able to house and find jobs for six refugees, and said he was sure many Australians could do the same. 
Read more: Russell Crowe offers to house refugees after tensions on Manus Island.
Despite criticism, he's still stands behind his comments. 
Ad. Article continues below.
Go ahead write stupid articles, send me abuse, call me naive. Doesn't change that what Australia has done to these men on Manus is appalling

— Russell Crowe (@russellcrowe) November 5, 2017
His latest topic targets the whole dual citizenship saga, and in particular Federal Liberal MP John Alexander, who resigned from Parliament on Saturday after confirming he was a dual citizen too. With the resignation of Barnaby Joyce that means the Coalition has 74 seats in the 150 seat lower house and has lost its majority.
"I have always believed that I am Australian and solely Australian. In view of recent events and the High Court decision, in my position, I have had to thoroughly examine my situation," John Alexander said, reported by News.com.au.
Alexander is a former professional tennis player, and was the younger player to represent Australia in the Davis Cup. He was also one of Australia's longest serving Davis Cup players, from 1968 to 1983.
Ad. Article continues below.
It's this reason Crowe has taken on this topic, calling it absurd that while Alexander has been able to represent Australia in sport, he can't do it in politics. 
So … John Alexander who played Davis Cup tennis representing Australia , received the order of Australia and the Australian Sports Medal, is now not Australian enough to sit in Parliament ? #absurd

— Russell Crowe (@russellcrowe) November 11, 2017
While some have said rules are rules, others are calling for a time to change those laws, and for Australia to get with the times.
Ad. Article continues below.
You don't have to be a genius to read the constitution of Australia and comply with it.
Or to play tennis, apparently.

— Salim Pickens (@SalimPickens) November 11, 2017
Why is a big deal that he is a dual citizen? The key thing you would think is that he is an Australian citizen? Seems kind of exclusionary for those that move, learn to love and make Australia their first home. Maybe time to change election laws in Australia #getwiththetimes

— ArcPro HD Inc. (@arcprohd) November 11, 2017
Just like the rest of us, politicians have to ensure what they declare on their official forms is accurate. Under the law, some have been caught out not doing their #DueDilligence which is causing havoc for an unfortunate few but they should've known better #ignoranceisnoexcuse

— Tessacate (@Tessacate) November 11, 2017
Ad. Article continues below.
constitution needs a rewrite

— Roberto Botticelli (@RobBotticelli) November 11, 2017
It was also pointed out that Crowe himself was not born in Australia, instead comes from New Zealand. 
Not like a NZ citizen who is in my view Australia's best contemporary actor?

— Charles Harrison (@charrison42) November 11, 2017
Ad. Article continues below.
What are you thoughts on the dual citizenship fiasco?