Jacqui Lambie claims women don't like her 'because they're b*****s'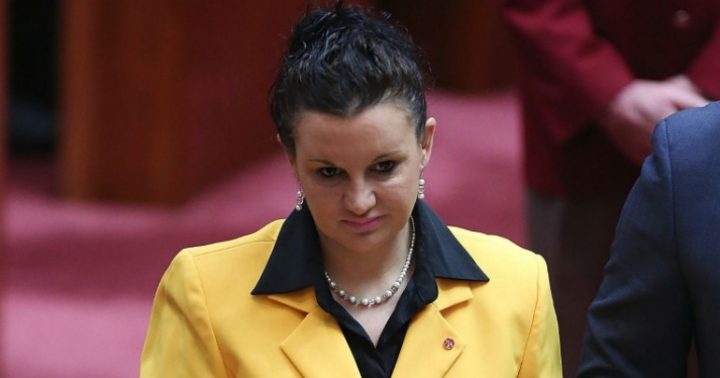 Jacqui Lambie has claimed more men like her than women, because women are "b*****s" — before ripping into Tasmania's health service, branding it a "clusterf***".
Speaking on ABC Comedy's Tonightly program, the 46-year-old shamelessly said she's the "queen bee" of "b*****s", and is holding out for men to vote for her candidates in the upcoming state poll.
Lambie was recently forced to resign from Federal Parliament after being caught up in the dual citizenship saga. She is now leader of the Jacqui Lambie Network, and is pushing her own candidates through the upcoming state election.
Asked about early polling in Tasmania, Lambie said she's relying on male voters she added: "Because women don't like me, they're b*****s."
Read more: Jacqui Lambie resigns after learning of British citizenship
Ad. Article continues below.
She went on: "Mate, we're all b*****s, and I'm one of the biggest ones, I would know, I'm the queen bee."
Not done there however, the controversial former senator then hit out at the Apple Isle's education and health systems, reportedly saying: "Our health system is a clusterf***."
The first day of the state election campaign began on Monday, and Lambie is running 12 candidates in the March 3 poll. However, she didn't waste time making her feelings known about the recent citizenship fiasco, and reportedly argued there needed to be a change to section 44 of the constitution – which eventually ended her tenure in Canberra. 
Read more: Jacqui Lambie and Waleed Aly clash over sharia law
It restricts certain people from running for parliament, depending on their career and employment history. She claims it's cutting down an already "f***ed gene pool".
Ad. Article continues below.
According to The Guardian, as the Liberals and Labor battle it out, they have now ruled out making deals with minor parties, such as the Jacqui Lambie Network, if they do not get enough of a majority to form a government on their own. Lambie said the decision was "stupidity" and a "slap in the face".
Lambie's political career has been somewhat of a rollercoaster, having been a member of Labor, Liberal, and the Palmer United Party, before a fallout with Clive Palmer saw her sit as an Independent since 2014.
She made headlines in 2015 after delivering a tearful and passionate speech in Parliament about her son's methamphetamine addiction. She was the eighth member of Parliament to fall victim to the citizenship debacle.
Are you a fan of Jacqui Lambie? Do you agree with her statements?
With Facebook removing news sites from your feeds we ask that you sign up for Starts at 60's emailers here. And to keep us on your wall, join some of our new Facebook groups and clubs:

News Junkies Club – Australia
News Junkies Club – USA 

See news on the change and links to all our other clubs and groups here.