Jacqui Lambie and Waleed Aly clash over sharia law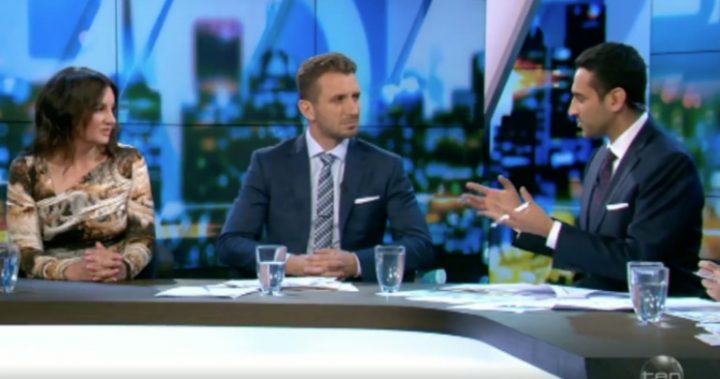 She may have been kicked out of politics but that hasn't stopped Jacqui Lambie from voicing her strong opinions.
The former politician appeared on last night's episode of The Project to discuss her future plans and what she's been up to since she was caught up in the dual citizenship saga that has rocked Australian politics.
While on the panel, outspoken host Waleed Aly decided to quiz the 46-year-old on her views about sharia law.
While the interview started well with the panel gushing over Lambie's likability, Aly was quick to shift the focus.
Ad. Article continues below.
He said: "I think that they're responding to your genuineness, right? And they're responding to the fact that you're calling things as you see it but you're also talking about things from experience.
"Your welfare speech, I think, was very powerful. But that's why I'm really intrigued about when you would go off on things like the sharia.
Read more: Waleed Aly blasts Australian TV industry for white-washing
"It's clear that you didn't really know that stuff very well but you had a really strong view about it and I just wonder whether or not, you've said you've made some mistakes, was that something you look back on and think you could have done that better? Or that you regret?"
Lambie calmly replied: "I think it could have been done better. I think I could have been knowing the topic as you're going along. You have people that are working alongside you and they're probably a bit further advanced than what you are in some areas. Knowledge is power. The more you learn, the better off you're going to be.
Ad. Article continues below.
Waleed stopped the politician and explained how her comments hurt a lot of people: "That stuff did hurt a lot of people. They're not involved in politics, they don't get a voice in politics. You're very good at speaking for people who don't have a voice. Do you regret any of that?"
The Tasmian fired back: "Do I regret going on about sharia law? Nothing's changing there. I don't like sharia law. We have one law in the country and that's Australian law and nothing's ever going to change my mind on that.
"I would imagine that if you're bringing up Yassmin [Abdel-Magied]. She took me on on Q&A. I came out on Mama Mia and said I did feel for her. She was absolutely getting belted out there. She still has not handled that as well as she should have either."
The pair famously came to blows on the ABC earlier this year as they clashed over sharia law.
Since then, Magied has been outspoken about her beleifs, even labelling Australia as her "abusive boyfriend."
Ad. Article continues below.
Read more: Yassmin Abdel-Magied says Australia is her 'abusive boyfriend'
Lambie continued: "In saying that, she's still quite young and we all learn by our mistakes. I'm not sure who's advising her on how to handle it, but sometimes when things aren't going that well, you need to pick that up yourself and say, 'I need to change course here … I'm not selling it properly."
Waleed insisted he wasn't talking about Magied and hinted that Lambie probably "didn't have a grasp" on what sharia law actually is.
"I might not have had a grasp on it when I first came out three years ago. I have a clear grasp on it, ok? There is one law and one law only and that is Australian law," she said.
Read more: Jacqui Lambie gets fiery on Q&A
Ad. Article continues below.
"You can look at sharia law. It's like an economist. Some will agree on this side and some will agree on this side and that's the truth of the matter. We can argue this point black and blue … There are millions of other Australians out there who are concerned by sharia law and there is no doubt about that.
She concluded by saying that Australians should be encouraged to talk about important issues but that they need to respect the opposing views.
What did you think of the heated exchange? Which side of the debate do you sit on? Do you think there's a place for sharia law in Australia?