'I'm the last person he wants to see': Abbott roasts PM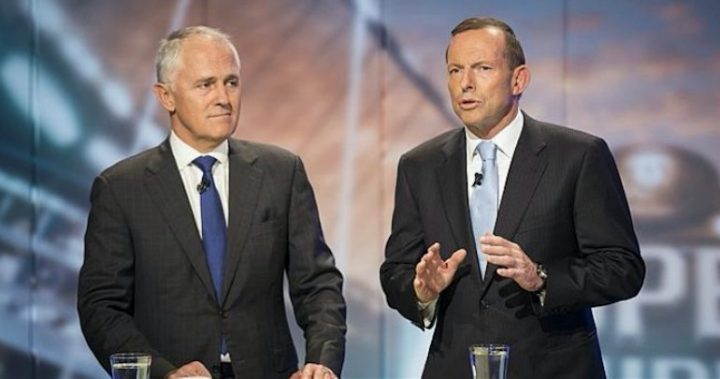 Christmas is a time for good cheer and merriness, but Tony Abbott has some bad news for the country.
The former PM told 2GB radio he didn't want to "add to anyone's woes at Christmas time", but is pretty sure prime minister Malcolm Turnbull is about to fail his own Newspoll test.
Abbott said he believes the PM "now wishes that he'd never said anything about 30 Newspolls", the number he famously ousted Abbott over, but conceded he feels sorry for Turnbull and the difficult position he's facing.
"Honestly I can sympathise with him there because when I was opposition leader and then prime minister I always refused to comment on polls, I never made too much of them publicly or privately because I thought if you governed well the polls would eventually come good," Abbott told 2GB.
The former PM also commented on the government's new frontbench, saying he wasn't surprised he was left off the bill as he was "the last person" the PM wanted sitting next to him at work.
Ad. Article continues below.
"The point here is that at least in the Coalition who is in the cabinet is entirely the responsibility of the prime minister and it's not whether I would like to be in the cabinet, it's whether the Prime Minister would like me to be in the cabinet and he's made it pretty obvious ever since the election that I'm the last person he wants to see there."
Turnbull was also pressed by 2GB on why he didn't make room for Abbott on the frontbench given his wealth of political knowledge and experience.
The PM responded that part of his job was to "bring in new and younger talent" and encourage the next generation of politicians.
"It's important to bring the new talent through, that's part of being a prime minister," he said.
"It's similar to being a chief executive of a big company in the sense that you've got to manage talent, you've got to bring the younger, new people through. You've got to make sure you've got women coming through as well."
Turnbull has lost 25 Newspolls in a row, but has repeatedly said he's focussed on the job at hand, not his approval ratings. 
Do you think Tony Abbott should return to the front bench? What do you think of the new-look frontbench?