'I will fight and it won't be pretty': Trump blasts John McCain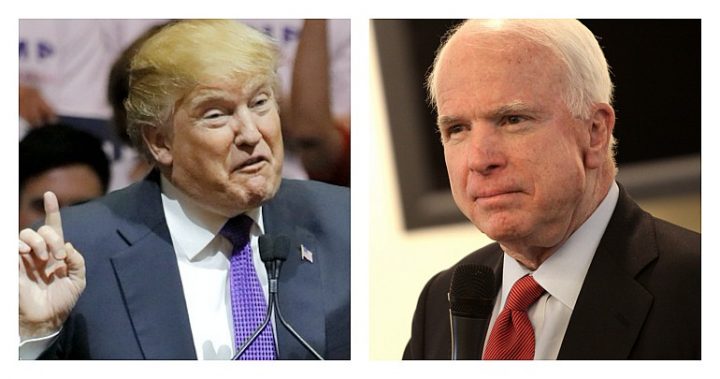 US President Donald Trump has taken a well-aimed swipe at John McCain following the Republican Senator's comments on America's "half-baked, spurious nationalism" foreign policy.
Trump told Washington radio station WMAL that "people have to be careful because at some point I fight back."
The president added "I'm being very, very nice but at some point I fight back and it won't be pretty."
McCain, who is currently battling brain cancer and is a former Vietnam POW, responded by saying "I have faced tougher adversaries."
McCain was awarded the Liberty Medal in Arizona on Monday night for a lifetime of service and sacrifice to the country.
Ad. Article continues below.
During his acceptance speech he took a veiled shot at the president and his America-first policy.
"To abandon the ideals we have advanced around the globe, to refuse the obligations of international leadership for the sake of some half-baked, spurious nationalism cooked up by people who would rather find scapegoats than solve problems is as unpatriotic as an attachment to any other tired dogma of the past that Americans consigned to the ash heap of history," McCain said.
"We live in a land made of ideals, not blood and soil."
McCain was presented his award by former vice president Joe Biden, whose son Beau Biden died of glioblastoma in 2015, the same form of brain cancer that McCain was diagnosed with in July.
Backlash against Trump's comments quickly began to circulate online with people taking to Twitter to condemn his words.
Ad. Article continues below.
'I fight back,' says President Trump after Sen. John McCain's 'spurious nationalism' speech.

Like McCain, who is fighting for his life and who survived a plane crash and being a POW really is scared of him.

— Ed Krassenstein (@EdKrassen) October 17, 2017
I'm not even a little teeny bit a fan of John McCain, but the man was tortured. Does Trump think he is afraid of anything he can do?

— David Hatch (@IIRONINTHEFIRE) October 17, 2017
Trump threatens john McCain. Steve Schmidt " I can't think of a man so unworthy picking a fight with a man so worthy".

— ronald (@ronalddukein) October 17, 2017
Ad. Article continues below.
Others, however, backed the president and argued McCain should stand behind Trump and support his leadership. 
What are your thoughts? Who do you agree with here?