How Barnaby Joyce influenced Australia's 2017 word of the year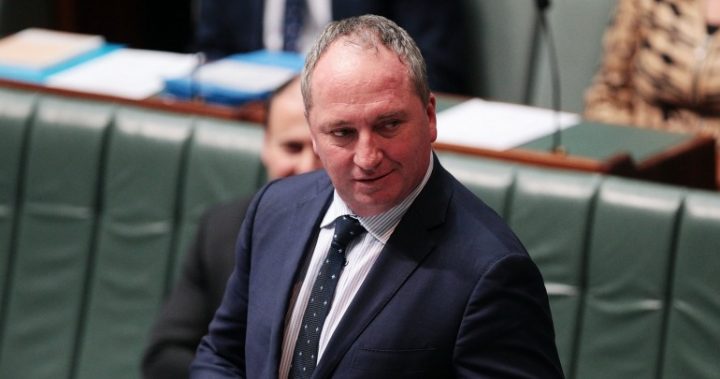 He's been one of the most talked about politicians of 2017 but it looks like Barnaby Joyce has had more of an impact on Aussie culture than initially thought.
Fresh after winning back his seat of New England at the weekend, it appears the 50-year-old has helped shape Australia's 2017 word of the year.
According to the ABC, The Australian National Dictionary Centre, the word 'Kwaussie' is their word of the year.
If you're scratching your head wondering what on earth the word means, there's a perfectly good explanation.
Apparently the word is a portmanteau of Aussie and Kiwi.
Ad. Article continues below.
Read more: Triumphant Barnaby Joyce cruising to even bigger victory in by-election
As you'll probably recall, Joyce was ejected from parliament in October after he was found to be a New Zealand citizen. His dual citizenship stemmed from his father, who was born there.
Despite being born in Australia, Joyce said he had "no reason to believe he was a citizen of any other country but Australia".
Finding joy in the citizenship saga that was testing Aussie politics, New Zealanders even nominated Joyce for Kiwi of the Year.
Amanda Laugesen, director of the National Dictionary Centre, said all this played a role in helping them decide 2017's word of the year.
Ad. Article continues below.
"The word was used to describe deputy prime Minister Barnaby Joyce and we found it was very popular in social media," Dr Laugesen told the ABC.
Read more: This year's Word of the Year is inspired by Trump
The dictionary regularly updates the words it includes to ensure that it keeps up with modern trends.
"Kwaussie is a great example of that," Dr Laugesen added.
The word's origin is believed to have originally began when Russell Crowe, who was born in New Zealand but grew up in Australia, was labelled as a Kwaussie.
The word beat a series of other Aussie terms that made the shortlist including Jumper punch, postal survey, robodebt and makarrata.
What do you think of Australia's word of the year? Is it something you've ever used in typical conversation?