Hillary Clinton gives eye-opening interview on Ellen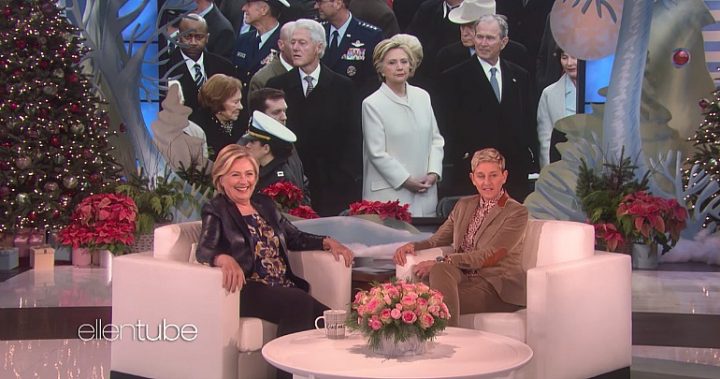 Hillary Clinton is still recovering from her crushing defeat at the hands of president Donald Trump, but says drinking white wine helped her through the tough times.
The former presidential candidate appeared on Ellen where she told the host she felt physically pained writing her book What Happened and revisiting the mistakes she made in her campaign.
"It was really painful. I'd write and I'd literally have to go and lie down," she told host Ellen DeGeneres.
"But it end up being cathartic writing the book, going for walks in the woods … seeing my grandkids … drinking chardonnay, I mean all of that helped."
Ad. Article continues below.
Despite losing the election, Clinton attended Trump's inauguration in January with her husband Bill Clinton and former presidents George Bush and Jimmy Carter.
However, she told Ellen it was the last place she wanted to be.
"We did tried to get out of it to be totally honest," she laughed. "We called Jimmy Carter, we called the Bushes, they were all going.
"The older bushes ended up in the hospital so they didn't have to go."
"Lucky them!" Ellen interjected.
Ad. Article continues below.
"Yeah, we were all envious," replied Clinton.
The former Secretary of State said she attended in the hopes it would create an appearance of a united front behind the president, but found it to be a "painful and disappointing experience".
Are you still disappointed Hillary Clinton didn't win the election, or are you happy with the result?