Government Whip embarrasses Liberal Party with joke photo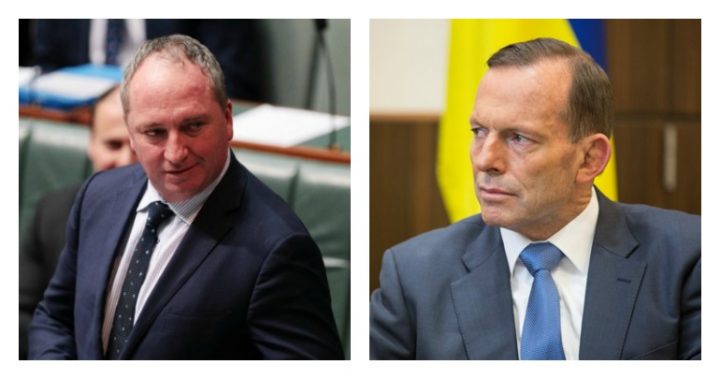 It's been a busy morning for the government. Michael McCormack was sworn in as deputy prime minister and Western Australia MP Nola Marino accidentally embarrassed the Liberal Party after sending out a joke photo to reporters instead instead of her mates. 
Marino, who is the chief government whip, quickly recalled the image but not before it was shared online for the entire country to see. 
The image mocked former Deputy Prime Minister Barnaby Joyce and former Prime Minister Tony Abbot with the caption: "When you get in trouble in class and you get sat next to the weird kid no one likes."
Sky News reporter Laura Jayes uploaded the image to social media with the caption: "This just sent out from @NolaMarinoMP's office…..and then recalled! @Barnaby_Joyce @TonyAbbottMHR."
This just sent out from @NolaMarinoMP's office…..and then recalled! @Barnaby_Joyce @TonyAbbottMHR ???? @SkyNewsAust pic.twitter.com/C7ZM5s4WdM

— Laura Jayes (@ljayes) February 25, 2018
Ad. Article continues below.
People quickly took to social media to share their thoughts. 
One user said: "But the question is: Which one is the punished one and which one is the weird one?" Another added: "Glad to see they have so much free time on their hands on the tax payer's coin." While a third wrote: "Thanks for showing us why the general public has absolutely NO faith in politicians. They're a waste of space. Nola, you're pathetic."
Another uploaded a video from the comedic film Billy Madison with the caption: "That's gold."
That's gold! pic.twitter.com/qACA6fo6Ig

— Jo (@cheekyjor) February 25, 2018
Ad. Article continues below.
McCormack was voted in as Joyce's replacement after the former National leader formally resigned this morning. Joyce will move to the backbench and McCormack will be promoted to the Cabinet. McCormack has been in Federal Parliament as the representative of the Riverina region in New South Wales since 2010. 
Read more: Meet Michael McCormack, who's set to be your new deputy prime minister
Joyce's decision to stand down came after Prime Minister Malcolm Turnbull declined to endorse Joyce as his deputy, when he was quizzed on the issue during a trade visit to the US. "The leadership of the National Party is a matter for the National Party," Turnbull told reporters in Washington DC.
In response to Joyce's resignation Turnball said in a statement on Friday, "The coalition between the Liberals and the Nationals is Australia's most successful political partnership, having endured for more than 95 years," he added. "This partnership is undiminished and will continue to deliver opportunity and security for all Australians."
Ad. Article continues below.
Read more: Stepping down was the only thing Barnaby Joyce could do
What do you think? Should parliament leaders be more careful? 
With Facebook removing news sites from your feeds we ask that you sign up for Starts at 60's emailers here. And to keep us on your wall, join some of our new Facebook groups and clubs:
News Junkies Club – Australia
News Junkies Club – USA 
See news on the change and links to all our other clubs and groups here.