Former PM John Howard weighs in on Malcolm Turnbull controversy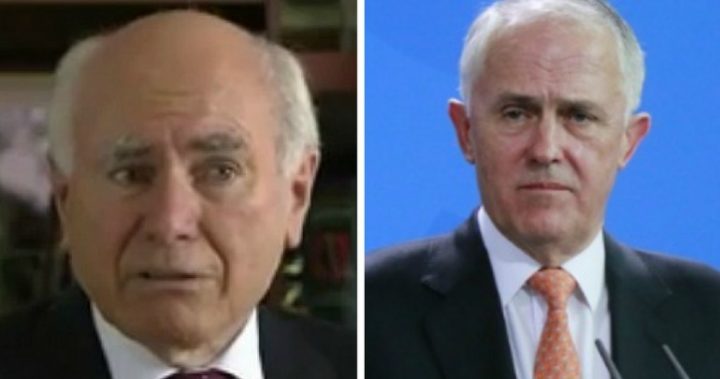 He served as Australia's prime minister from 1996 to 2007 and now John Howard has weighed in on Malcolm Turnbull and the job he's doing.
Just yesterday, there were calls for Turnbull to resign from within his own party.
New South Wales Deputy Premier John Barilaro, who holds one of the most senior positions in the Coalition, encouraged the PM to resign by Christmas.
Read more: Calls for prime minister Malcolm Turnbull to resign
In a serious blow to Turnbull, Barilaro made the comments on Radio 2GB.
Ad. Article continues below.
"Turnbull is the problem, the Prime Minister is the problem," the ABC reports the Deputy Premier saying.
"He should step down, allow for a clean-out of what the leadership looks like federally. And whoever governs the country needs to make sure that they put the country and its people first.
"You've got a party in disarray, a Coalition Government in disarray and a community not unified and that is all at the feet of the Prime Minister of Australia," he said.
Turnbull revealed he was upset that Barilaro didn't speak to him privately on the matter, suggesting that he had his number if he wanted to talk.
Howard has seemingly had enough of the political backstabbing and has thrown his full support behind Turnbull.
Ad. Article continues below.
Speaking to The Weekend Australian, the 78-year-old called for an end to the "madness" currently facing the Government.
"I continue to support Malcolm Turnbull very strongly," he told The Weekend Australian.
"The best option for the Liberal Party is to help make Turnbull's leadership work and succeed. In my view, he can still be successful."
He warned that yet another leadership change could cause more problems for the Coalition and suggested that opposers of Turnbull from within the party should tread carefully.
Read more: Malcolm Turnbull raps on live TV, calls Waleed Aly a 'downer'
Ad. Article continues below.
The former PM directed his comments at Barilaro: "He might be mindful that the Liberal Party is facing a very difficult election in Bennelong. At a time like this people on the Coalition side should be sticking together."
He also hinted that Bill Shorten isn't as popular as he thinks he is: "Bill Shorten is not popular.
"It is a long period of time since the Labor primary vote was above 40 per cent. There is dis­illusionment with the government but it is not all flowing back to the Labor Party.
What do you think of John Howard's comments? Do you support Malcolm Turnbull or do you think it's time for Australia to have a new leader?